"I used to say that, as an engineer, I was trained to solve problems. That is true, but, more significantly, I was trained to define problems so that we ensure we address the right thing. This is never more complex than when addressing poverty and the environment: each both cause and effect of one another. Poverty, for example, sees a farmer deprived of education which may result in land degradation and, thus, inadequate crop yield, deepening his poverty." Nigel Langdon, who leads the strategy for our Environment Department, expresses it well. The vicious cycle plays out across the complex landscape of need we serve.
At Crossroads we try to target a range of strategies locally and globally that advocate for environmental sustainability. Here on our own property, we try ourselves to walk the talk, from the plates we use at lunch, to energy-efficient air conditioners in our buildings, to the 33,585 kg of materials we recycled in 2015-16.
---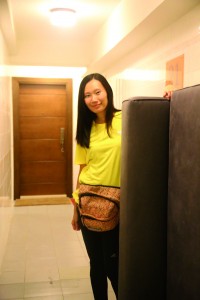 Nikki wasn't always an environmental hero. Her story started when she was a young mother with babies and a growing collection of baby gear her little one had outgrown. "I needed space at home!" she says, and knew there must be many families in the same boat. Meanwhile, Nikki saw with sadness the mountains of discarded furniture, including designer chairs and working refrigerators, in estate dumping areas. She knew how much they could help people in need in her own city, and the damage that landfill was doing to the environment.
She swung into action. She began collecting goods from households around her neighbourhood and distributing them to NGOs and needy families in Hong Kong. It wasn't long before demand for her services snowballed, and she knew it was time to register as an offficial charity. Nikki's NGO 'DB Mothers and Friends' has now grown from a tiny neighbourhood pick-up service on Saturdays to a Hong Kong-wide social enterprise that employs people in need of a job to drive on pickups every day.
Happily, she found us! We have been in partnership with DB Mothers and Friends since 2014 and have grown so close that they now give us 99% of the goods they collect: 1-2 trucks' worth of goods of amazing quality each day! Nikki herself is unstoppable. "It's more than a full-time job," she says. The days can start at 6 am and end as late as 10 pm, but to Nikki (pictured), it's worth it. In this city, where >3.5 million tons goes to landfill each year, the need for what she does is greater than ever.
They say that not all heroes wear capes! It's people like Nikki who convince us that heroes walk amongst us, helping Hong Kong fight for a fairer and more sustainable future.
Donate goods through DB Mothers and Friends by joining their Facebook page!