Crossroads takes high-quality goods which Hong Kong no longer wants and redistributes them to people in need, locally and internationally.
Donate your goods within Hong Kong through our new GoodCity App! Click the button below and follow the quick & easy steps to offer your goods to Crossroads. If your goods are outside of Hong Kong, please go to our Global Hand website and fill in the form. Thank you!
We donate to charities and individuals in need, near and far. Many comment on the quality of the goods you kindly donate. One, for example, put it this way: "Sometimes when we receive 'charity goods', the quality is poor and we don't know whether to throw them out right away or try to fix them… But yours were incredible! Our people couldn't unload them fast enough."
Such comments are a credit to the manufacturers, businesses, institutes and families in the Hong Kong community who donate quality items so generously.
DELIVERY OPTIONS
We ask our donors to deliver goods to us, please.
WHY DELIVER: This may be a surprise to some as, in the past, we had volunteers collect goods. We can no longer do that, sadly.
We have been overwhelmed by Hong Kong's generosity. So many Hong Kong people now kindly donate that we cannot find sufficient volunteers to staff a pick-up service. Some donors therefore suggested we switch to a delivery model. We were reluctant to do so, as we know this costs our donors. Yet, they pointed out, it also costs, in Hong Kong, for people to have goods taken away for trash. They had a point. We listened. Finally, reluctantly, we changed our model.
HOW TO DELIVER: You can deliver the goods yourself or use a transport service. We can suggest delivery companies.
WHERE TO DELIVER:
Building 32
Crossroads Village
2 Castle Peak Road
Tuen Mun, NT
A map in both Chinese and English is available here.
WHEN TO DELIVER: We will arrange a date with you in advance. We have staff on hand to receive goods from Tuesday to Saturday (except public holidays), 10:30 am – 1 pm or 2 – 4 pm.
In summary, then: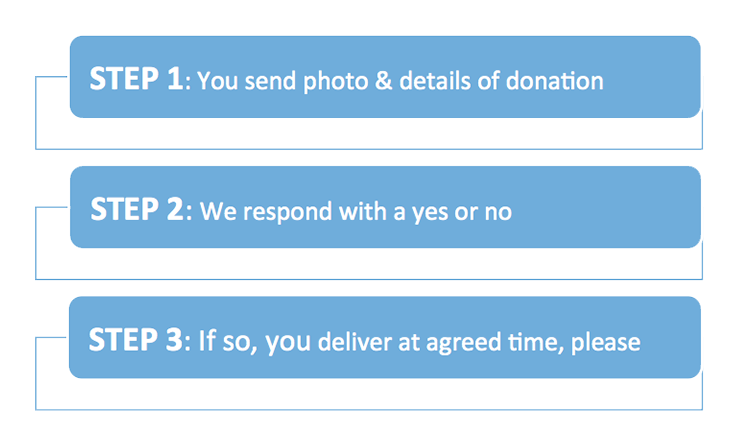 WHAT IS NEEDED?
Experience, over the years, has taught us which items are frequently requested and which are difficult to place. We've captured that thinking in the links below. Please check them out to see what is urgently needed, generally needed and, in some cases, never needed.
Urgently needed!
Computers – Less than 8 years old, dual core processor, 3Ghz

 

Computer Accessories – muse, keyboards, monitors, chargers for laptops

 

Sofas – two & three seater (no stains/fading, no fabric tears/cracked leather)

 

Wardrobes, freestanding – maximum dimensions for pickups: width 3'4″ (100cm) height 6'7″ (200cm)

 

Televisions with remotes

 

Refrigerators and freezers

 

Washing machines

 

Small sofas

 
Generally needed
Bunk-beds – wood or metal frame, with mattresses

 

Bunk-beds – metal, with mattresses

 

Bed mattresses – single, maximum width: 3'3″ (100cm)(no stains)

 

Bedside tables/cabinets

 

Beds – double with mattress & frame – maximum size: 4'6″ (140cm wide)

 

Bookshelves – small, maximum width 4′ (122cm)

 

Carpet rolls and squares

 

Chairs – stackable or foldable

 

Chests of drawers – good condition, for adults

 

Computer tables, compact size, no top shelving

 

Desks – home use

 

Dining table and Chairs (two or 4 seaters) 

 

Heaters – oil filled

 

Kitchen cabinets

 

Outdoor furniture

 

Ping pong/table tennis tables

 

Shoe racks – with drawers

 

Simple Loft beds

 

Sofa-beds – simple (2-seater/double) no futons

 

Stools – stackable or foldable

 

Tables – folding

 

TV cabinets – small

 

Wall picture

 

Wardrobes

 
Never accepted
Glass-top tables

 

Loft beds (beds with attached wardrobe/desk underneath

 

Queen and King size Beds

 
Generally not needed
Beds – larger than double

 

Bookshelves – large (over 4′ wide)

 

Chairs – odd/single/non-matching

 

Coffee tables

 

Futon beds

 

Mattresses – double, without bed frames

 

Sideboards

 

Sofas – 3-seaters over 6′

 

TV cabinets – wide (over 4′)
Temporarily not needed
Beds – single size with mattress (preferably dismantlable, wood or metal frame)

 

Beds – trundle

 

Bookshelves – large (over 4′ wide)

 

Dressing tables

 

Sideboards

 

Sliding door cabinets

 

Tables – general use

 

Wall pictures
Generally needed
Cabinets – metal sliding door, lockable

Office chairs – adjustable with back support & wheels

Office desks – laminate wood style (that can be flat packed)

Office partitions – stand alone single panels

Pedestals/drawer units

School desks & chairs

Whiteboards
Never accepted
Office chairs – large executive style

Office cabinets -large with plastic sliding/roller doors

Office partitions – NOT free standing

Sideboards – large
Not needed currently
Filing cabinets with keys (metal or wooden)

Office cupboard (laminate wood)

Office desks – metal

Office desks – very large (> 2′ x 4′); steel/wood
Urgently needed!
Blankets
Cutlery
Educational toys eg. Lego
Pillowcases
School stationery
Single bed sheets (new or used)
Sleeping bags
Tents
Towels
Needed generally
Bedding – for Single and double beds and babies
Blankets – woolen in good condition
Bedsheets; single and double
Baby items in good condition – changing tables etc
Baby high-chairs – collapsible or wooden
Books – children's
Books – non-fiction & textbooks
Cleaning products (new)
Clothing – baby's (new)
Clothing – children's (new)
Clothing – maternity (new)
Clothing – Tshirts (new, without offensive prints)
Clothing – lightweight summer (conservative style – new)
Cooking posts including woks
Cooking utensils
Encyclopedia sets (1995 onwards)
Musical instruments especially guitars, drums, drumkits & percussion intruments
Shoes – mens (new)
Stationery for office & school
Strollers
Toiletries (soap, shampoo, toothpaste, napkins)
Tools – hand, good quality
Towels – clean, good condition
Toiletries (soap, shampoo, toothpaste, napkins)
Toys – clean, sorted, intact (no pieces missing)
Toys – small soft toys (new)
Toys – babies (new)
Toys – educational (new & used)
Toys – outdoor eg. plastic cars
Urns for boiling water
Water filters for taps
Never accepted
Pirated DVDs/VCDs
Used soft toys
Generally not needed
Adult novels
Chinese books – simplified & traditional script
Christmas decorations
Clothes – women's winter (new)
Handbags
Ironing boards
Toys – battery operated
Used clothing
Urgently needed!
Desktop and laptop computers (less than 8 years old)

Digital projectors

DVD players

Fans – table and standing

Freezers – any size

Gestetner machines

Heaters

Household appliances (small)

Irons

Kettles

Ovens – electrical & toaster ovens

Ovens/stove – convection, bottle gas & electric

Photocopiers – with change of ownership & registration papers

Refrigerators – any size

Sewing machines – home and industrial use

Washing machines – top & front loading
Generally needed
Air conditioners – small window units

Cameras – digital & video

CD/Cassette players (esp. 2 deck), discmen, walkmen

Circuit breakers

Clothes dryers

Dehumidifiers

Hubs/switches

LCD projector (for Power Point)

Lighting

Lamps – small bedside

Lamps – standing

Mixers, power amps, microphones & sound systems

Mobile phones

Musical keyboards – electronic

Printers (Laser)

Software licenses specifically Windows 95/98/NT/2000 & Microsoft Office

Stereo systems

Stoves – gas & electric, burners & stove/oven units

Telephones

Televisions

Tools, power (eg. circular saws, cordless drills) & workshop (eg. band saws, drill planers)

Typewriters – manual

Vacuum cleaners

Water coolers
Never accepted
Generally not needed
Dishwashers

Fans – ceiling (old)

Photocopiers (unless in working order)

Printers – dot matrix

VCD players

Video recorders
Urgently needed!
Sporting equipment – suitable for teenagers
Generally needed
Cardboard boxes of all sizes

Canned food – in date

Coin counter

Eyeglasses – with & without prescription lenses

Hospital beds, wind up

Gas barbeques

Generator

Marquee

Medical first aid supplies & stainless steel hand instruments

Medical equipment including wheelchairs

Milk powder and canned food (in date)

Musical items – electronic keyboards, drum sets, guitars etc
Generally Not Needed
Not needed currently
DO WE TAKE EVERYTHING?
Lots, yes, but not everything, sadly.
It saddens us when we have to refuse goods. Usually it is for reasons such as the following.
On occasion, we have an over-abundance of some items and, necessarily, need to place a hold on collections while we process those in stock.
There are some items which we cannot distribute due to reasons of fragility or size. Glass furniture, for example, easily breaks when shipped. Very large items, such as king sized beds, or huge tables, cannot be used by people in small homes such as typical Hong Kong apartments or African huts in needy areas.
We do not have the personnel to fix items that are need of repair. Our commitment is to distribute quality items that not only meet needs but demonstrate the importance and value of the person receiving them.
At all times, we are advised by those who receive the goods from us as to what they can actually use. If we are offered items they can't normally use, we must, regretfully say no. The worst kind of humanitarian aid or welfare is, of course, that kind which imposes goods on people that they don't need or can't really use, so we must be guided by that. Additionally it is not good for us to send items which might damage a local economy or in other ways undermine the community receiving them. In all these things, we are guided by our standards of best practice.
If we must refuse any donations, however, we can recommend other organisations that may be able to take them.