Cameroon: Restoring Stolen Childhoods
One injustice followed another when the Atanaga family, living in an impoverished Cameroon area, lost their beloved father and breadwinner. And life got worse. Their father's relatives laid claim to their house and belongings, leaving the grieving family to live in an abandoned house. They knew child labour was the only 'hope' left. With schooling beyond reach, the kids abandoned any chance of escaping the cycle of poverty. Their childhoods had been stolen.
At this point, relatives shared their plight with our partners on the ground. They leaped into action and organised the needed sponsorship to put all three children into school, covering all their costs. They also provided Mrs Atanaga with the capital to start a small market business. Today, the family supports itself, and the children have a fighting chance at a different future.
Zooming out, big picture, the Atanagas typify thousands in locations such as this where Crossroads works. Hallmarks often include weak medical provision, inaccessible education, inadequate housing and no social safety net. Our goal is to provide shipments that inject deeply into the community to see long term change. In this case, our shipment provided our partners in rural Cameroon with several new facilities.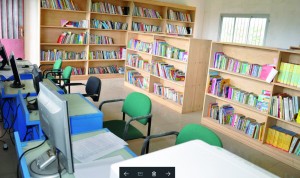 New computer centre: We sent computers that created the first computer centre in the area. It may be hard to believe, in today's world, but many in the community had never seen a computer before. Now over 300 villagers have regular access to the centre, increasing their skill sets and helping connect them with the rest of the world (photo above).
New medical centre: Hospital beds and medical equipment allowed them to open the local area's first health clinic.
New school building: This was built in time for the shipment's arrival so that we could outfit it with school furniture, library books and school supplies. In this region, it is estimated only 10% of adults can read so a facility of this kind can be profoundly empowering.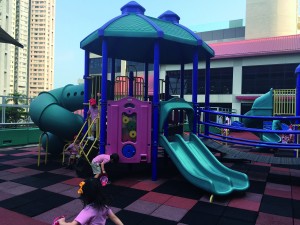 New playground: Play is serious business in locations where childhoods are too often robbed. Psychologists advise that children's overall development is impaired if they cannot 'be kids' and balance their growing years with play. Hong Kong's Canadian International School sent equipment unlike anything the community had seen before! The presence of the playground is the first in the history of the village. Happiness is now part of their daily life.
Crossroads' goods distribution philosophy: This is the kind of investment Crossroads loves to make. We cannot make a capital investment of funds. We can, however, make a capital investment of goods, strategically chosen for their long term impact. We call it investing for life. It's one of Crossroads' maxims and our team works harder than we can say to make it happen, locally and internationally.