Placing goods 'wisely and well…'
Placing goods 'wisely and well…'
Right goods, placed the right way, can change the future of those who receive them. Wrong goods placed the wrong way can be ineffective or, sadly, worse.
That's why, at Crossroads, we strive to place product with deep consideration, and even deeper understanding, of the group that will receive them. This doesn't happen overnight. We begin a process, a lengthy one, which allows us to understand the group's history, its present need and its future plans. If the placement of goods can make a strategic investment in their operations, helping them move forward, we move forward. Every step of the way, our various departments liaise to ensure we are outfitting the recipients with as close a match as possible: a bespoke 'fit' for their particular strategies, climate, culture, expertise and goals.
We all know the maxim: "Give a man a fish and he eats today. Teach a man to fish and he eats tomorrow." In our opinion, though, we take it a step further. As well as learning how to fish, that fisherman might, tomorrow, need a boat, a freezer and even a computer to manage his business. That's where Crossroads steps in to help others step up.
---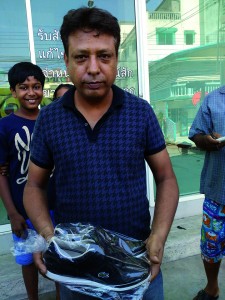 Thailand: Displaced People
Asylum seekers living on no income, often for many years, were grateful for the gift of new shoes, when a large donation was offered to Global Hand, and taken up by an NGO in Thailand. As one grateful recipient expressed it: "In our culture we say that receiving new shoes is the sign of a new journey."
---
Nepal: After the Quake Came the Rains…
Knowing the rains were soon to come, and later the cold, corporate donations were tailored towards those racing the clock to provide shelter.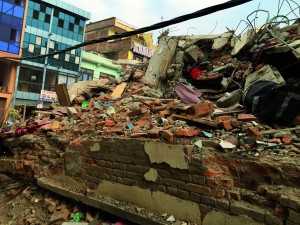 Over 700 high visibility, yellow, waterproofed jackets were provided by Visijax. These superb jackets normally retail at 99 GBP each, making the donation particularly valuable for people in Nepal who were participating in the rescue operation and preparing for the region's imminent rainy season. They came in an adult range from XS to XL and were unisex in design: thoughtful provision for those working on the ground.