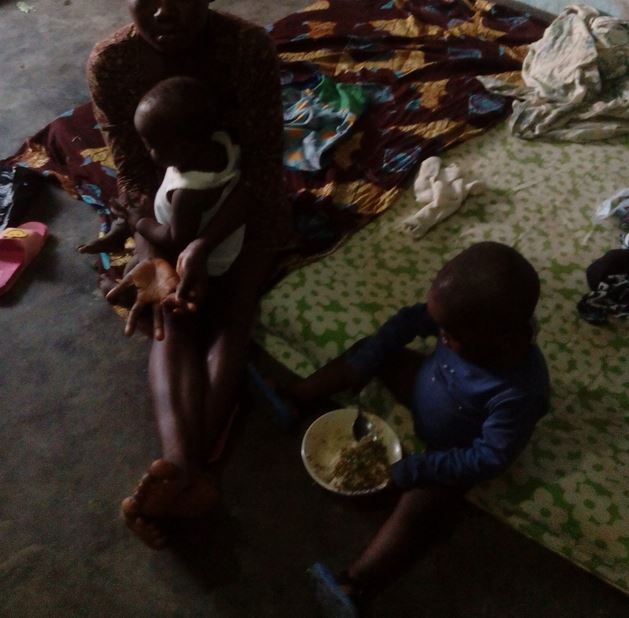 The people in Marie's* region knew the soldiers would come – it was only a matter of time. They had heard stories of nearby villages burned to the ground in their part of Cameroon, but when the soldiers finally reached their own town, the pain was unspeakable. The attackers killed both of Marie's parents, and she – a young teenager – fled in terror to the bush. There, Marie had no shelter from rain or sun, no medical care, little by way of food to be found. They lived alongside others who had escaped with their lives but, sadly, it wasn't the safe haven she needed. She was raped and assaulted repeatedly, leading to the birth of two young children. As a new mother, she desperately wanted a home, with food and security for her little ones, but fear of life in her own village made return impossible. Marie made her way out of the bush with her baby and her toddler, to seek help. Her search brought her to the doorstep of a children's home, run by our partners in Cameroon. Upon arrival, the small, traumatised family (pictured above right) hadn't eaten for many days, and they had no clothes at all. It took days, they said, before Marie could manage to eat again, but, with their care and expertise, the home managed to give the relative safety she and her little ones so desperately needed.
The current conflict in Cameroon has hardly made it on the current world news radar, as is true of so many tragedies in our scarred world today. It's been made very real to us here, though, because we are hearing from a stream of partners there with a cry for help. In the past, they've needed help with poverty alleviation and rural need, something we did often. Now, though, they write about war: displaced people, the need for clothing for people hiding in the bush, and the pressure of conflict seeing the NGOs we partner with having to pack their belongings to escape to safer towns, as illustrated in the picture above, sent by Marie's group. "Many of our people are dying here," they told us. Other photos they included with their application were some of the most graphic and tragic that we've received.
In 2007, we first shipped to this particular group with goods that helped set up a vocational training centre, seeing hundreds of youth trained in employable skills. This summer, with the help of volunteers from a financial consulting company, we loaded a shipment of goods (pictured below) for this group that will help not just projects for longer-term survival, but also the likes of 'Marie's who are desperate for immediate care: families whose homes have been burned, and displaced people living in the bush.
*Not her real name