Israel: Real Hope, Hidden Needs
The tourist write-up made it sound idyllic to spend Easter in Jerusalem, a city filled with history. What it didn't mention was the fact that the area would be filled with military and police for the holiday weekend. When Crossroads representatives took a follow-up trip to the region, they found the armed forces on 100% alert.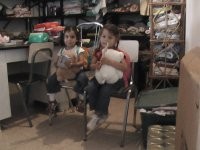 The media had extended the call to the population at large. "If you own a gun, carry it," it had warned. "If you need to use it, do!" Our team encountered the tension repeatedly. Passing through a military checkpoint near Jerusalem, for example, their guide said, "Bombs are thrown here all the time. Just the other day, a homemade gasoline bomb exploded on this spot."
As the Middle Eastern conflict continues, tourists and businesspeople are staying away from the area in droves. As a result, the local economy is plunging, making everyday life a battle for the average family. Nearly a third of children in Israel now live below the poverty line. Many elderly people are similarly vulnerable when poverty strikes. People simply can't find enough work in the current climate, and the only real hope for many families is to be helped by an aid organisation.
"Poverty is hidden in this country," an aid worker in Israel told us. "As a visitor, it might not be visible to you, but scratch beneath the surface and you will find real need."
She should know. She liaises with organisations all over the country who are trying to supply life's basics. "They can't afford clothes, shoes, furniture, medical care. Some are even struggling to find food…" The outlets she supplies offer all these things.
Crossroads has helped too, and now supplies containers to the region several times a year.