SHIPMENT FEEDBACK
When Crossroads shipped to a long-term partner in Antipolo, we knew the goods would be valuable in their work with families from the slums. What none of us knew, though, was how timely the shipment would be for their disaster and poverty relief efforts. Within weeks of the shipment arriving, the Taal volcano erupted, forcing more than 70,000 people within a 14km radius to evacuate.
Our partners leapt into action, making several trips to the evacuation centres with goods from Crossroads' container. "With a tragedy of this size, our resources to help the community would have been drained quickly," they wrote. "But we are grateful that the shipment form Crossroads was there. We have already done our fourth relief outreach and have provided food, shelter, clothing, blankets and medical supplies, children's toys and other things from the shipment."
"We are grateful that the shipment from Crossroads was there. It made a lot of displaced families happy." NGO staff
"We were able to help three community councils with school furniture and office equipment.  Two of them can now restart operation of their offices after their offices were damaged by the volcano eruption.  These communities have an average constituency of more than 5,000 residents each," they said.
"Showing victims that there are still people who have not forgotten about the calamity helps boost their morale despite their dire situation," they reflected. They estimate that around 1,000 people in evacuation camps directly benefited through goods from the shipment.
Alongside the disaster relief projects, their schools for urban poor children were impacted by goods from Crossroads. Growing up in the slums of Antipolo means crowded living quarters, with families squeezed into one-room homes where all home activities take place. Diseases spread quickly, and family tensions are hard to escape. For children from these families, a high-quality education can be the key to breaking the poverty cycle.
We have shipped goods for their network of schools and youth clubs in past years, and this new investment of goods has now upgraded and improved the level of education they can offer. Seven different facilities, from day care to youth clubs, received desktop computers, school equipment, educational toys and other goods. "674 students are now benefitting from better equipped classrooms," they said.

(Above) Helping Taal volcano evacuees: More than 70,000 people were displaced when Taal volcano erupted. Living in temporary evacuation centres they were in desperate need of essential goods and items for children. For local councils, our partners distributed office furniture, fridges, computers and wheelchairs, replacing goods lost through damage after the eruption. For children and families in the evacuation camps, toys and educational supplies (pictured below) added to the food, shelter and medical supplies that our partners were distributing, showing the evacuees they were not forgotten.

For children in urban slums (below), a quality education like that offered in our partners' schools, can be the key to escaping a life of desperate poverty. See next page for initial feedback photos of goods from Crossroads arriving to help equip schools.


(Above) Crossroads' team loads the container at Crossroads Village in December 2019.

(Above) Staff and volunteers unpack the goods at their community centre in the Philippines.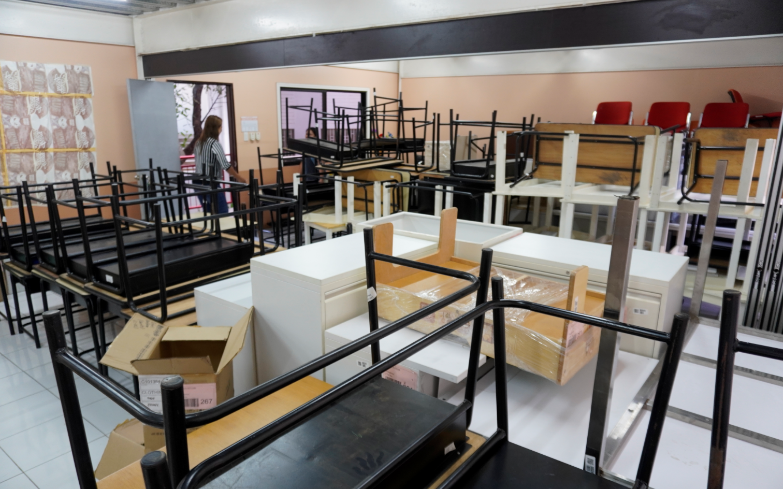 Reference No. : S2316B