Overview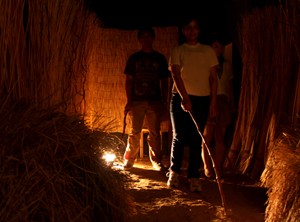 Participants are led through an African village, in total darkness, by guides who are themselves blind. Without sight, participants will learn to navigate using sound, touch and scent, and are invited to experience the creativity and extraordinary capabilities of the visually impaired.
Available Booking Schedules
We usually run our Blind X-perience simulation together with our AIDS X-perience simulation, as part of a global health focus. We run our programmes at our site across two booking-slots daily, Tuesday to Saturday. They are as follows:
Morning option:
09:45     Arrival, bathroom break, name-tags
10:00     Introduction to the programme
10:30     Simulation
12:30     Visit to our Fair Trade Café and Shop
13:00     End of programme
Afternoon option:
13:45     Arrival, bathroom break, name-tags
14:00     Introduction to the programme
14:30     Simulation
16:30     Visit to our Fair Trade Café and Shop
17:00     End of programme
The Blind X-perience is also available as a stand-alone programme. In this case, kindly factor in an hour only for the simulation component in the sample schedules above.
Practical Information
Booking: Participation is by booking. If you would like to make a booking, kindly fill in our online booking form.
Language: This programme is available in English, Cantonese and Mandarin.
Suggested Group Size: We tend to suggest a minimum number of participants of 8 and a maximum of 40. It is, on occasion, possible to combine with other groups in order to participate.
Program fee: There is a program fee for this programme. Please email us for a quotation.
Suggested age-range for programme: 7-Adult
Please check out our Booking FAQ's for details on:

The terms and conditions of your booking (including our cancellation and weather policy, and what happens if your number of participants changes)
What to bring when you visit
Directions to our site
.. and more
---
"Blind and sighted people can work together, to help the world and to participate in change." Ming has been a guide in our Blind X-perience since 2012, helping people step into the shoes of those without sight in places of poverty. Watch the video below!
---
So You've Done Blind X-perience… What Next?
Today there are over 250 million people in the world who are blind or visually impaired. But almost 75% of all visual impairment can be prevented or treated. Many people stay needlessly blind because they live in poverty. In developing countries, blindness denies people education, independence and the ability to work- things which can break the poverty cycle. Eliminating avoidable blindness is one of the most cost effective ways of fighting poverty. In economic terms, every $1 invested in blindness prevention, more than $4 is returned in economic terms.
You can help support efforts to give people back their eyesight and help them lead more independent lives in the following ways:
Help Through Crossroads
Shipments: We regularly ship to groups around the world that help care for people in need including the visually impaired. You would be welcome to help sponsor the costs of such a shipment. Please contact our team at enquiries@crossroads.org.hk for more information.
Blind X-perience: You may like to be an ambassador for the Blind X-perience itself and tell others about this opportunity to X-perience the creativity and extraordinary capabilities of the visually impaired. A booking can be made by clicking here www.crossroads.org.hk/global-x-perience/booking-enquiry-form/.
Help Through Other Organisations
---
Read more stories!
(Any product names, logos, brands, and other trademarks or images featured or referred to within the Crossroads website (https://www.crossroads.org.hk/) and/or on any social media forum are the property of their respective trademark holders. These trademark holders are not affiliated with Crossroads Foundation or its website. These trademark holders do not sponsor or endorse Crossroads Foundation or any of its products or comments.
Should you have any questions or concerns please contact Crossroads Foundation at https://www.crossroads.org.hk.)