Serwanga has been disabled from birth and can't walk on his own. Living in a Ugandan village with a profound disability, it's more difficult than most for this 12-year-old to get to school each day, but if Serwanga can't get an education, he faces a life of extreme poverty, just like his parents.
Serwanga has been getting help from an organisation in his region who supports children at risk. They gave him a wheelchair some years ago, to make it possible for him to go to school, but it had started to break down.
"It was hard for him to make it to school every day," said one staff member.
Even once at school, learning was a challenge for Serwanga and his classmates. They don't have enough stationery, school books or even uniforms for children from poorer families.
The NGO requested a shipment of educational goods from Crossroads that would help them equip schools like Serwanga's. When it arrived, they couldn't hold back their excitement!
"This school had so few items to facilitate teaching before, leaving many of these children in despair," they said after distributing many cartons of stationery.
"This is a new change in life for these children!"
Serwanga himself received a new, working wheelchair from the shipment, as well as a pack of pens, pencils and other stationery to help him learn.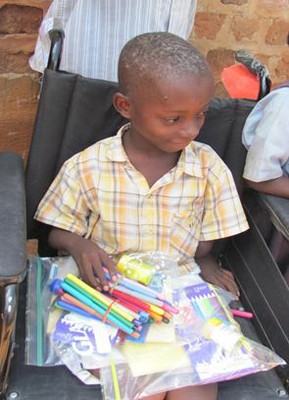 "Many of these children are neglected and left to wander in the community with no one to help," wrote our partners. "Now, there is a lot of hope for Serwanga to continue his education."
We are grateful to Maersk for sponsoring this shipment!
Want to sponsor an international shipment?
We have several international shipments ready to set sail and waiting for sponsors! Your company, club, organisation or family can make a shipment happen.
Email us at partnerships@crossroads.org.hk for a list of partnership opportunities.