"I want to help, and you have opened my hands, desperate to do something." Hong Kong school student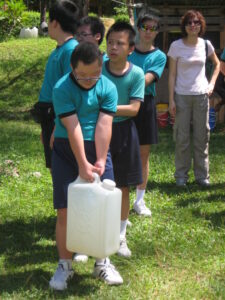 Since we started running poverty simulations for groups of Hong Kong school students, we've hardly been able to keep up with the demand for bookings! When children spend a few hours at Crossroads taking part in experiences like the
Refugee Run
or the
Struggle for Survival
, they emerge bubbling over with ideas about what they can do to help fix their broken world.
Mong Kok Kai Oi School brought a group of primary students to do Crossroads' 'Water Challenge' (pictured right). It was a day that not only enriched the students' English language skills, being immersed in English throughout the activity, but one in which they explored the burden of gathering water shouldered by the 1.1 billion people who lack access to clean water, and solutions to help.Students at Kingston School (in 'Living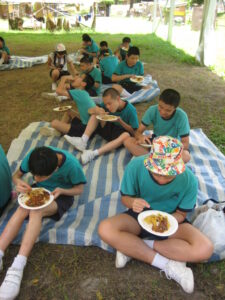 with a Disability' simulation, above) were so inspired by simulations they took part in at Crossroads that they went back to the classroom and came up with a strategy to raise enough money to sponsor two shipments of aid – one to a school in Zimbabwe, another to help orphans and foster families in Moldova.Crossroads has helped, literally, hundreds of Hong Kong school groups engage with world need since we began our Global X-perience programmes in 2005.
Want to book an x-perience for your school?
Click
here
 to talk to us about how we can help your school group engage with poverty issues and explore solutions to help!