Overview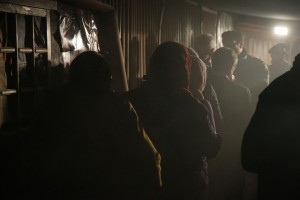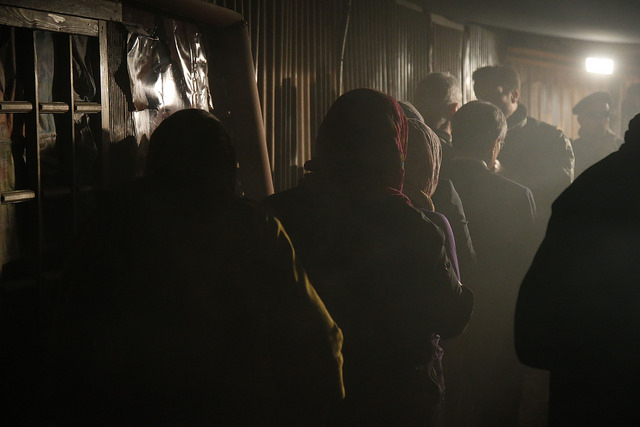 Participants face simulated attacks, mine fields where they may be 'injured', life in a refugee camp, hunger, illness, lack of education, corruption and uncertain shelter or safety. Participants may also be marched under guard, subjected to ambush and, ultimately, offered a chance of re-settlement where they must re-build their lives. The experience is co-developed with refugees, internally displaced persons and aid workers to create as realistic a scenario as possible and to target issues that need addressing by global leaders: ethnic conflict, weak legal infrastructure, corruption, disempowerment and frustration.
Available Booking Schedules
We run our programmes at our site across two booking-slots daily, Tuesday to Saturday. They are as follows:
 Morning option:
09:45     Arrival, bathroom break, name-tags
10:00     Introduction to the programme
10:30     Simulation
12:30     Visit to our Fair Trade Café and Shop
13:00     End of programme
Note: this programme can be combined with the 'Slum Lunch'. In this case, the programme generally ends at 13:30.
 Afternoon option:
13:45     Arrival, bathroom break, name-tags
14:00     Introduction to the programme
14:30     Simulation
16:30     Visit to our Fair Trade Café and Shop
17:00     End of programme
Practical Information
Booking: Participation is by booking. If you would like to make a booking, kindly fill in our online booking form.
Language: This programme is only available in English.
Suggested Group Size: We tend to suggest a minimum number of participants of 40 and a maximum of 80. It is, on occasion, possible to combine with other groups in order to participate if your group is smaller.
Program fee: There is a program fee for this programme. Please email us for a quotation.
Suggested age-range for programme: This programme is suitable for anyone over the age of 16. Additionally, due to the intense nature of this simulation, we request that all participants complete a Participant Acknowledgement Form. Participants under 18 should have their Participant Acknowledgement Form signed by a parent or legal guardian. You will receive the form upon booking.
Please check out our Booking FAQ's for details on:

The terms and conditions of your booking (including our cancellation and weather policy, and what happens if your number of participants changes)
What to bring when you visit
Directions to our site
.. and more
How do people respond?
When we asked participants the impressions they gained of life for a refugee, they told us the following."A profound experience that reminds us of the plight of millions of forcibly displaced people." Ban Ki-moon, Secretary-General of the United Nations
"Beautifully done." Sir Richard Branson, Virgin Management Ltd.
"Everyone should do this. It will change the way you see refugees." Jimmy Wales, Founder of Wikipedia
"A remarkable experience… One is moved, emotionally, out of normality, to a better understanding of the fears and dangers present for refugees." Jeffrey Sachs, Director, Earth Institute, Colombia University
"The bit of Davos I will remember for the rest of my life." Sir John Gieve, Harvard University
"Humbling, inspiring, thought-provoking and motivating – a truly remarkable experience. Thank you!" Jane Nelson, Director of Harvard Kennedy School's Corporate Social Responsibility Initiative
"The simulation was as close to real as I could imagine. I now have a much greater appreciation for the needs of displaced people and will be an advocate for sending the message." Dan Brutto, President, UPS International
"Thank you…for the very powerful experience you gave so many of us…it was very well done – unsettling, authentic, transformative." Amy E Roth, International Justice Mission
"I don't know how anyone could do this experience and not come out morally obligated to do something about it." Paul Ellingstad, Director, Office of Global Social Innovation, HP
"Most impactful experience I've had in a long time, with real inspiration to take action. Don't miss this!" Mack Gill, President, Global Services, Sungard
"Thank you on behalf of millions of refugees." Peter Brabeck-Letmathe, Chairman of the Board, Nestle
"Everyone at WEF should be required to do this." Josh Spear, Founding Partner, Undercurrent.
CNN Money coverage