SHIPMENT FEEDBACK
Our shipment to DR Congo went to a group working very hard to serve communities in an area experiencing this kind of conflict. Even distributing the goods was a challenge, as they found some villages empty of people who had escaped to another region seeking safety. Thankfully, once there, they were able to distribute clothes and other relief goods from Crossroads' shipment.
"All over our district, there was no library because of lack of books, but with the arrival of the shipment, things changed.  This is now the first library to be established here since the war began." – NGO staff
Despite the odds, this group is having strategic impact with various projects. Furniture and household goods from our shipment are helping set up a centre where people who have seen decades of violence and grief can meet, sharing their stories of trauma, for healing. A refrigerator we sent is preserving blood and other essentials. Prior to this, it was hard for them to get blood for transfusions, but "with a fridge, the blood is now made available and the community so much helped". Tools we sent have created jobs for 50 youth, now working as painters.
"Before the shipment arrived, it was difficult to make blood available for transfusions. Now, with the fridge, blood can be made available and the community is greatly helped." – NGO staff
They told us how hospital beds we sent, now being used for mothers who've just given birth, "were so beautiful that the health centre manager felt obliged to repaint the room to fit with the beds"!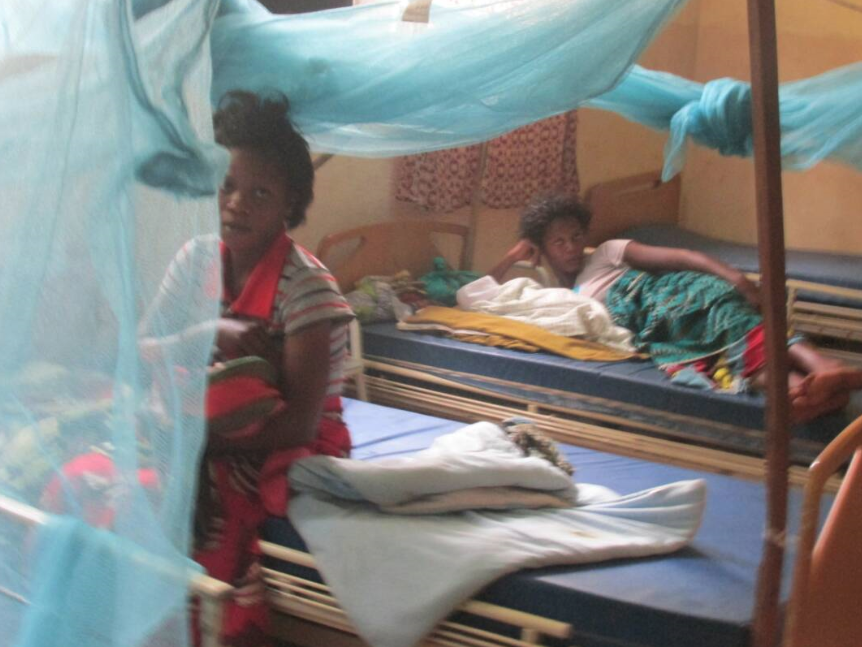 New mothers in this maternity ward are now far more comfortable and in more hygienic conditions when they give birth and recover, after beds and mattresses from the shipment equipped the ward.
Finally, they told us that books from the shipment have filled the community's first library since the most recent war began, and fabrics and sewing machines are helping train people in valuable tailoring skills.
We are so grateful to the volunteers and sponsors who contributed to this shipment, helping war-torn villages in DR Congo not just with their immediate needs for care and safety, but with their needs for employment, better healthcare, and education for a sustainable future.
---
HOW THE GOODS ARE CHANGING LIVES
Nearly 3,000 people displaced by war received relief goods like clothing, bedding and household items.

Embroidery machines from the shipment helped set up a tailoring workshop that now generates US$280 a month for community youth.
A large quantity of fabric made a double impact. First, it has been useful for training tailoring students, and secondly, the clothes made by these students can now be given to disadvantaged women in need of clothin
50 young men, some of them returned soldiers desperately in need of skills and employment, have been trained in painting skills using painting tools from the shipment.
Furniture and other goods from the shipment helped establish a health and community service centre. One of this centre's activities is a group therapy session, where elderly people who are living with trauma from the war can share their stories and receive support. "These people often feel excluded by the community," said our partners.

Survivors of war-related violence and rape are often stigmatised as well as traumatised once the conflict has passed. Our partners run group therapy and story-telling groups to help communities affected by war, like these women survivors of sexual abuse (Above 1st pic), and returned child soldiers (Above 2nd pic). They also ensure that women can access medical help for injuries and diseases acquired through rape or other violence. Goods from Crossroads' shipment such as furniture and household appliances are helping in these projects.
Families who received school books and uniforms, now feel better able to keep their children in school. Even though fees are low, ranging from US$2 to $15 per month, it can be difficult for many poor families to find the funds. "Any reduction in the cost of social services because of goods from this shipment makes a big change to the lives of these families," said staff.
Educational text books and other books helped set up the first library in the district since the war began in 1996. This library is now being accessed daily by children, adults and researchers from surrounding communities.
Computers from the shipment are now being used to upgrade our partners' administration offices, and for a community internet café, where most people would have no access to the internet or a computer at home.
Hospital equipment from the shipment saved our partners $5,200. Now they have been able to redirect some of that money saved to school sponsorships for 210 orphans and 28 children from poor families, as well as helping 180 malnourished children through their feeding programme.
Chairs and other furniture from the shipment have saved our partners nearly $1,000 per year that they used to spend renting chairs for seminars and community events.
Reference No.: S3993