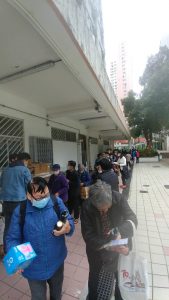 When Covid-19 started to spread in Hong Kong, health and hygiene products flew off the shelves. It became impossible to buy the things that everyone needed most to stay safe. For those at the grassroots, particularly vulnerable elderly, it was extremely difficult to find these high-demand goods.
We were so grateful to have supplies in our warehouse of donated soap, hand-wash and healthy fruit juices. When NGO Manna asked Crossroads for help with these very goods to assemble packs for the elderly, they were very pleased to take a large supply. They immediately started distributing them to Kwun Tong elderly in need (pictured at right), as part of their Covid-19 support projects in February.
Through this challenging season, it's an ongoing honour to keep teaming up with both goods donors and hardworking NGOs, helping each other walk with the most vulnerable in Hong Kong.