Uganda: Crossroads' goods invest in villages
Christine, a 49 year-old widow, lives in a grass thatched house with her 8 grandchildren whose parents died from HIV/AIDS. She had very limited household resources – just one saucepan, two plates, no bed and no mosquito net. Her grandchildren were not going to school because they didn't have the school supplies and clothes they needed. Finding enough food to feed all nine of them has been a huge struggle for Christine, and the children regularly suffer from bouts of malaria. They were often bored and restless.
"I thought I had been forgotten" – Widowed grandmother of 8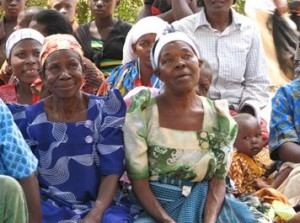 Life changed for Christine and the 8 little ones when a shipment arrived from Crossroads, filled with goods donated from Hong Kong. Our partners in Uganda came into contact with Christine and her family and were able to give her some of the very things she needed most: mosquito nets, new plates, cups and cooking utensils, toys, clothes and games for the children and, most importantly, uniforms and stationery so that they can return to school.
"I thought I had been forgotten," Christine exclaimed when she received the goods. Staff told us that she hugged everybody and danced around with joy!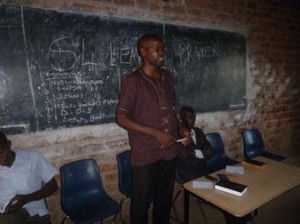 It wasn't only impoverished families like Christine's that benefited from the shipment. Goods from this container were used to invest in community schools and health centres. At one clinic, some patients were sleeping on the floor because the number of beds was insufficient. Now, beds from Crossroads mean that more patients can be treated and served in comfort and safety.
In one rural secondary school (right), students sat on the floor for lessons because they didn't have desks and chairs.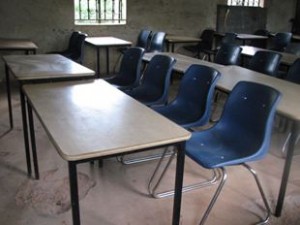 School furniture from Crossroads' shipment means that now, not only can they sit at desks and chairs each day for more effective learning and concentration, but the school has been upgraded to an exam facility! This means children no longer have to travel to a different village for exams but can sit them at their own school.
It's truly been a story of transformation for this Ugandan community, and one for which we're so very grateful to our donors and sponsors!