At least 5,500 people in the Philippines are now confirmed dead in the aftermath of Typhoon Haiyan, with many more thousands of survivors left grieving and homeless.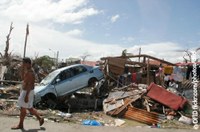 Crossroads' first container has already arrived in the Philippines, carried free of charge by CNC Line, with three more containers loaded by 6th December, filled with goods to help reconstruction efforts in affected areas.
What's needed now?
Now that the initial weeks following the disaster have passed, our partners have asked us for goods that will help people rebuild, such as hammers, nails and other hardware. Read on below for more information.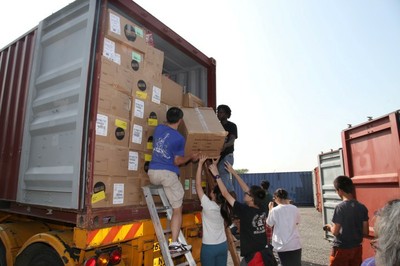 HOW YOU CAN HELP
GIVE MONEY
To donate money towards Crossroads' Typhoon Haiyan disaster relief efforts, please click here and specify 'Disaster relief fund' in the 'What For?' section.
Alternatively, you can make a direct deposit to:
Bank: HSBC
Account number: 083-6-028407
Account name: CROSSROADS FOUNDATION LTD
(NB – Please email accounts@crossroads.org.hk to notify us of your donation.)
GIVE GOODS
Goods requested
Our partners in the Philippines have advised us that construction materials and supplies such as hammers, nails, power tools, wood etc, would be most helpful for the rebuilding efforts now underway in their target areas. Email disaster.response@crossroads.org.hk with questions about other goods needed.
Disaster kits 
Crossroads is no longer calling for disaster kits for the Philippines. However we appreciate disaster kits at any time to replenish our supplies, ready to send as soon as another disaster strikes.
Please contact Crossroads in advance of your delivery on 2984 9309 so that someone is available to accept your donation.
How to deliver donations
Please deliver any donations directly to Crossroads after calling to inform our office on 2984 9309, with address details found here. Thank you for your generosity!
OTHER ENQUIRIES
Do you have other ideas about how your organisation or company can partner to help Typhoon Haiyan survivors? We'd love to hear from you.
Please email disaster.response@crossroads.org.hk (preferred) or call +852 2984 9309.
We will continue to release updates with any further developments or needs. Thank you for caring for those in need in the Philippines.