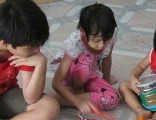 At just 5 years old, Khang*, of Vietnam, had almost no way to 'make it' with the options life had left him.
Khang's father had died in prison: a concept that, at 5, he could hardly understand. He and his mother lived on the streets where she, through prostitution, had tried to earn enough to take care of him. Eventually, though, she found life overwhelming and abandoned Khang.
The little boy ended up in the care of a charity that provides shelter for young ones in crisis. Crossroads shipped a container to the charity that runs Khang's home, including goods like computers, school supplies and clothes. His 'brothers' and 'sisters' in the home are there because their parents, too, cannot take care of them. They may be drug addicts, homeless or simply too poor to manage another mouth to feed.
 "We encourage these kids to dream big!" NGO staff member, Vietnam
Each one of the children's backgrounds is a tragedy. Amazingly, though, their future has been redeemed. "We encourage these kids to dream big," said one of the staff, perhaps because nobody else has told them they can.
Khang, now 15, wants to be an accountant and work for an international bank. Living on the streets with his mother, it's unlikely he would ever have gone to school, or even survived. Today, though, Khang has every chance of achieving his dream!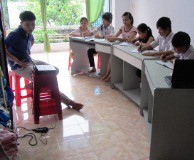 The children receive a golden opportunity twice a week: computer classes, where they learn the sorts of skills that their wealthier schoolmates take for granted. The computers they use are laptops from the shipment we sent last year, as are the desks they sit at!
It's a privilege to partner with NGOs like this one in Vietnam, who are actively working to fight poverty and change the futures of children in need.
*Name changed