Have you been moved by situations of poverty but don't know how to respond? Volunteering at Crossroads is one way you can line up the skills you have, with your hopes to make a difference to a broken world.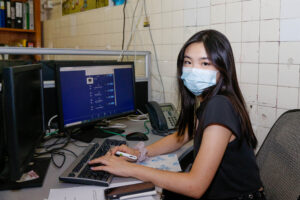 You can register to volunteer your time right now using our online form or keep reading below for more information about volunteering at Crossroads.
Crossroads is driven by the deep desire to serve people in need both here in Hong Kong and around the world. The work is huge, but with many hands we can make a difference!
Would you be willing to offer your hands?
What work would I do as a volunteer?
We have work of many kinds! We can usually find a niche to interest most volunteers. For example, we need people……
with cafe and retail skills: buyers, sellers, servers, baristas…
with theatre skills: actors, producers, dancers, special effects technicians, set construction specialists…
with communications skills: public speakers, designers, grant writers, translators, layout skills…
with administration skills: managers, systems analysts, book-keepers, PAs, project managers…
with warehousing skills: people to wrap, pack and stack goods, warehouse managers, packers, forklift drivers, inventory managers, truck drivers…
with PC and other IT support skills: people with technical flair/experience to help support our Active Directory domain of Windows PCs and other infrastructure…
with maintenance, landscaping & handyman skills: carpenters, plumbers, electricians,  engineers, gardeners, "fix-it" personnel, "DIY" personnel
Do I need special skills?
Not necessarily. We can use all kinds of general volunteers. That said, however, if you do have experience in one of the above listed areas, we can almost certainly use you.
Who can you use?
Volunteers of all ages, stages and interests come to our site. We can use whatever time you can spare, whether that is four days a week, or a spare hour here or there.
Students                                                                                                                                                                                                                                                                                                          Interested in earning a certificate for your university entrance or job application? Wanting to help those in need? Keen to improve your English? Join our international team and sign up for 70 hours' work, coming in as and when you are available.