We blush a little raising this point, but, wonderfully, there are people in our lives who ask how they can fundraise on our behalf.
We would blush further if it truly were on our behalf. The reason we welcome their kindness is that those who fundraise for Crossroads really do so on behalf of those we serve.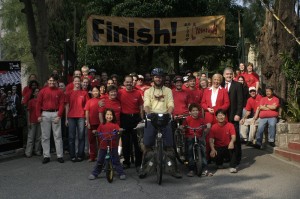 Essentially, we work for people who, in the main, cannot pay for the services they need from us. So we in turn need the help of others to cover our costs. Those who fundraise enable us to serve people, near and far, who are in need.
If you are one of those people, it may be helpful to know that you can use SimplyGiving to set up your own web presence when you are kind enough to do that fundraising. You can have a giving mechanism on your own webpage and/or use your social media presence.
Some of the past fundraising efforts have blown our minds. In order to raise funds for Crossroads:
a student, Lorencio Mateo Shui, visited 801 Hong Kong 7-Eleven stores in 60 days. Read more. 
a business man climbed the  treacherous alps near Mt Blanc. More. 
a young man biked from London to Hong Kong, via the 'Stans'.
three brothers biked across Australia.
It's not necessary to achieve vast athletic feats, though! Any fundraising activity, even the simplest, is welcomed and needed. Your efforts, large or small, may change the lives of people whom we may not have been able to reach, had you not helped.