Virtual Visual Impairment Workshop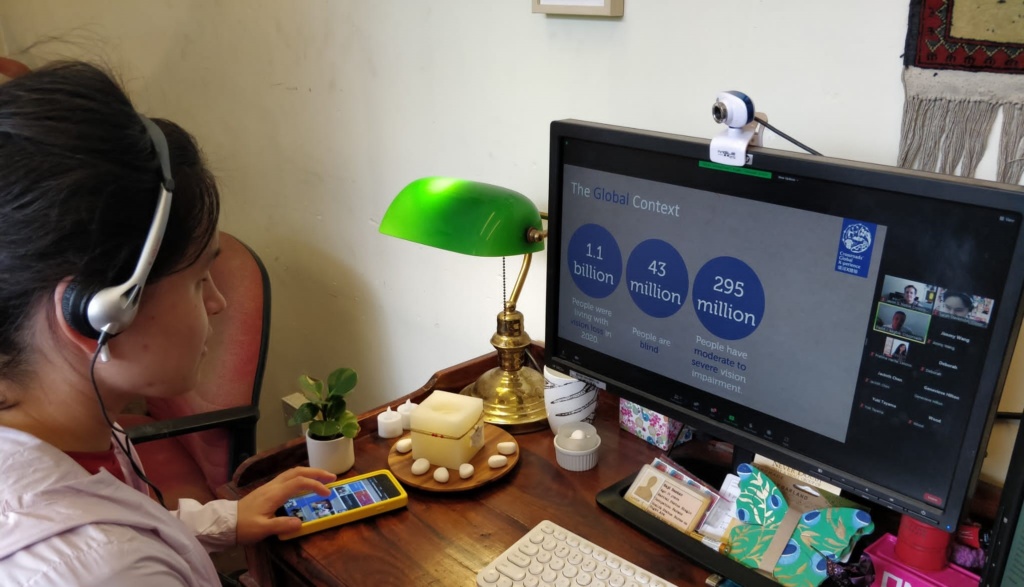 Crossroads staff member, Sarah, visually impaired, leads online workshops for corporate participants.
Why choose the Virtual Visual Impairment Workshop?
International teams can't always gather in person anymore, but corporate groups are still looking for team-building activities that tie in with their CSR/ESF activity goals, particularly when they focus on diversity and inclusion.  
Since 2005, Crossroads has run in-person simulations about world needs, including our Blind X-perience. Now, drawing on that extensive background, we've launched an online visual impairment workshop, run by both visually impaired and non-visually impaired facilitators. Our goal is to empower sighted people to support those without sight, in both a personal and corporate context, as well as to celebrate the capabilities and achievements of people who are visually impaired.
 "The interactive module from Crossroads was a key highlight of our ESG event. The Crossroads team was able to create an intimate, personal experience for the more than 1,000 participants; at the same time, it successfully delivered the most important key messages to our stakeholders about the relationship between social inclusion and our business goals. It was a pleasure to work with the Crossroads team."

Genevieve Hilton at Lenovo 
Suggested group-size: between 10 and 1000 participants 
Program length: 30 minutes (or 45 minutes with Q&A from our staff afterwards) 
Cost: USD 1500  
What is Crossroads?
 Crossroads Foundation (www.crossroads.org.hk) is a Hong Kong based, non-profit organisation serving global need. We believe that, in a broken world that sees too much suffering, we should do all we can to link those who are in need with those who can provide help. We, therefore, provide an intersection, literally a crossroads, to bring both together through four services:  
Global Distribution:

This distributes Hong Kong's quality excess goods as needed, internationally and locally.

 

Global Village

: This offers simulated X-periences of global need.   

 

Global Handicrafts:

This sells fair trade goods from people in poverty. 

 

Global Hand

: This provides a 'matching' website for public-private partnerships. 

 
How to book
We'd love to talk about working with your group! Email globalx@crossroads.org.hk to make a booking or for further enquiries.