WHO IS THIS SHIPMENT HELPING?
Although it has experienced some economic growth in recent years, Vietnam's Quang Nam Province still suffers with a poverty rate much higher than the national average. The region's population is heavily reliant on subsistence farming and basic trade, with around 80% of people still living in rural areas, making access education and healthcare support for children difficult. Children with disabilities are particularly vulnerable, as stigma and a lack of appropriate facilities means that roughly one in three is never able to attend school. Indeed, of Quang Nam Province's 18 districts, only 3 have even basic facilities for providing special needs care.
Our NGO partners in the region have been working for the last decade to improve the lives of families across the region through material and educational support, with a special focus on those with disabilities. They run 10 programmes in Quang Nam Province with four key aims: orphan care, special needs support, prevention of trafficking, and keeping families together.
Over the next five years they are planning to establish a new regional health centre, a food support programme, and a service to provide employment opportunities for people with disabilities.
Crossroads is shipping goods to support these goals, including wheelchairs and hospital beds to equip rural clinics, computers and desks to bridge the digital divide in classrooms, and shoes, clothes and blankets to meet the basic needs of the region's most disadvantaged families. These goods will help our partners expand their current projects, and to pursue their long-term goals.
---
NUONG'S STORY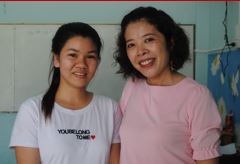 Nuong, who is now 23, was born deaf. She grew up in a small rural community in the mountains of Quang Nam Province with her poverty-stricken family. Fearing for her safety and unsure how to help her, Nuong's parents kept her very close and never let her spend any time away from the house or cow field.
Happily, Nuong's mother was recently put in contact with our partners, who run a school for the deaf. Through their help Nuong has been able to attend school for the first time, and is thriving in her new environment.
With the help of shipments like this one our partners will be able to better equip their specialist schools and support centres, allowing people like Nuong to reach their full potential and to be treated with the respect and dignity they deserve.
---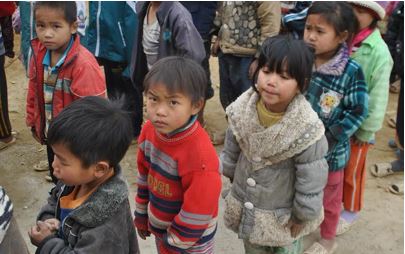 Children in a rural Quang Nam Province community queue up to receive new coats and shoes donated by our partners.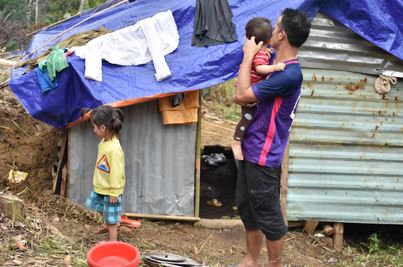 Many families in Quang Nam Province live in basic shelters that are severely affected by heavy rain and typhoons. Another aspect of our partner's work is to assist in disaster relief when such tragedies strike.
---
THERAPY CENTRES
At our partners' therapy centres they offer a number of services to support people with disabilities across Quang Nam Province. As well as the school for the deaf which Nuong (story at right) now attends, they also provide therapeutic care and offer educational classes to help families understand how best to care for their children.
Goods sent in this shipment will support our partners' centres, as well as giving material support to families living in poverty.

---
WANT TO BE PART OF THESE LIFE CHANGING STORIES?
Sponsor a container: We need HK$ 50,000 to send any of our waiting shipments on their way. Email us for a list of projects needing funds: partnerships@crossroads.org.hk
Give goods: We can help your company or group find projects that need your quality superseded goods. Email partnerships@crossroads.org.hk
Volunteer: We need regular volunteers in a huge variety of roles across the work, from manual labor to administration and specific skilled roles. Email volunteer@crossroads.org.hk
Reference No : S5023