WHO IS THIS SHIPMENT HELPING?
Sierra Leone is still in recovery mode, after a bitter civil war ending in 2002 that saw an estimated 50,000 people killed, 1-2 million people displaced and more than 1,200 schools destroyed. It's estimated that a third of all soldiers in the 11-year war were aged under 18.
Massive efforts have gone into rebuilding and healing communities. Crossroads' partners on this shipment believe that without proper sanitation and hygiene, children aren't able to attend and stay in school, and families remain in poverty due to disease and lack of employment opportunities. "Sierra Leone is a resilient nation," they said. "The country is endowed with natural resources, beautiful ecology for tourism, productive land for agriculture, but these resources are poorly managed. It has caused the majority of the population to suffer from hunger and disease."
This small NGO has worked with international partners like UNICEF to run water and sanitation programmes reaching 128,000 people. They also help in disasters like flooding, and they run programmes on menstrual health and hygiene for girls, often helping schools improve their facilities for girls so that the students feel confident to manage their feminine hygiene while at school.
These partners have asked for a shipment of goods from Crossroads that will help them in their projects reaching out to communities to improve and develop their health, sanitation and education infrastructure.
---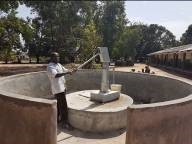 Building a community well can have an incredible ripple effect. Women and children who formerly walked long distances for water each day can use that time to earn an income or stay in class. Diseases that formerly caused death, loss of income or time out of school, are radically reduced.
Our partners have installed water supplies for 20 communities in Sierra Leone. 
---
Students at the Comforti agricultural school  in rural Sierra Leone had every reason to skip class. For the past 20 years, the school of 1,000 students had no water supply at all, and no proper toilets. "The existing toilet facilities had been abandoned because of their dilapidation and unhygienic conditions," said our partners. Students would use this as an excuse not to come to class, or to leave in the middle of the day and not come back! "We were exposed to water-borne diseases because of poor sanitation in school," said one former student.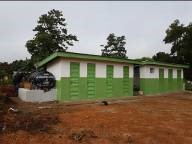 Girls had a particular challenge when menstruating, feeling that there was no way to manage their hygiene at school. They simply stayed home rather than try to cope with the inadequate facilities.
Crossroads' partners heard their plea for help. They dug two fresh water wells, and built four new toilet blocks (pictured left), with dedicated hygiene faciltiies for the girls. Our partners, estimate they've reached 128,000 people through their water & sanitation programmes.
Goods from this shipment will help our partners better administer projects like the one that helped Comforti School.
---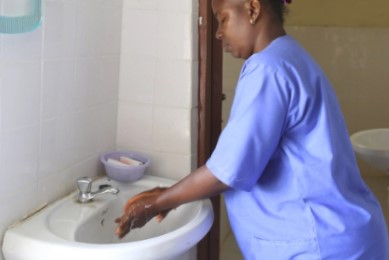 Working with other international agencies, our partners have been able to serve more than 128,000 people through their water and sanitation programmes.
---
WANT TO BE PART OF THESE LIFE CHANGING STORIES?
Sponsor a container: We need HK$ 50,000 to send any of our waiting shipments on their way. Email us for a list of projects needing funds: partnerships@crossroads.org.hk
Give goods: We can help your company or group find projects that need your quality superseded goods. Email partnerships@crossroads.org.hk
Volunteer: We need regular volunteers in a huge variety of roles across the work, from manual labor to administration and specific skilled roles. Email volunteer@crossroads.org.hk
Reference No : S4907