WHO IS THIS SHIPMENT HELPING?
In Ghana's Upper West Region, where our NGO partners carry out their work, over 60% of the population have never attended school. Literacy rates here are consequently low, with 73% of people unable to read or write in any language, and unemployment rates are rising rapidly – particularly amongst young people. The vast majority of those who do work are engaged in subsistence or very small scale farming and, as such, they are at the mercy of the seasons. When the weather fails them, they have nowhere else to turn.
The key to breaking the cycle of poverty and food insecurity in this region is education. We are very happy to be working once again with our partners in Ghana, who have already laid a fantastic foundation for change using goods sent by Crossroads in 2015. The previous shipment helped provide clothing and supplies which transformed a number of local schools, but there is still more that is needed, and more schools to reach.
Our partners are working to ensure every child is able to attend a school that is equipped to teach them, they are working with parents and communities to instil a belief in the importance of education, and they are providing the tools necessary for teachers to engage their students. They are, ultimately, working to build a system that can offer better opportunities and the means to thrive for the next generation.
This shipment will include computers, school desks and bicycles; these things will modernise lessons, they will furnish classrooms, and they will carry students towards their chance at a brighter future.
---
SANCHIGA PRIMARY SCHOOL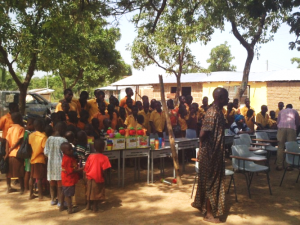 Sanchiga did not have any education facilities until the community founded its own primary school in 2010. Unfortunately, even then, many families lacked the resources for their children to attend.
Now, through the hard work of our partners, a number of the community's most vulnerable families have received support in the form of stationery, clothing, and household goods. Already this has led to 23 new enrolments in the school.
Goods in this shipment will allow further support for families who could not otherwise afford for their children to attend school, and will ensure the continued growth of schools like Sanchiga Primary.
---
FONGO EA JUNIOR HIGH SCHOOL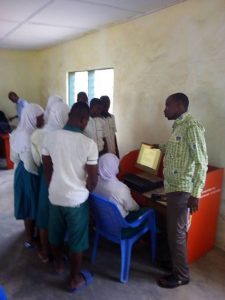 Fongo EA Junior High is one of the grateful schools that received support from our partners in 2015, benefitting directly from goods shipped by Crossroads. Following the arrival of their new desks and equipment we received some feedback from the school:
"Until the donation we used to have a lot of challenges. A student population of 943 relied on only three old computers, and dual desk chairs meant for two people were having to seat at least three in all our classrooms. Thankfully the student desks and computers donated by Crossroads have addressed these problems, and the school has even been able to open a new ICT centre."
The goods being sent in the current shipment will allow our partners to help more schools like Fongo EA Junior High, ensuring as many children as possible have access to the facilities they need to develop their skills.
---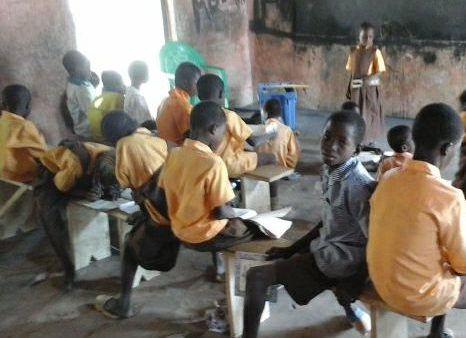 Rural schools in the region often need to be entirely self-sufficient, relying on the most basic furniture and resources to try and facilitate their students' education.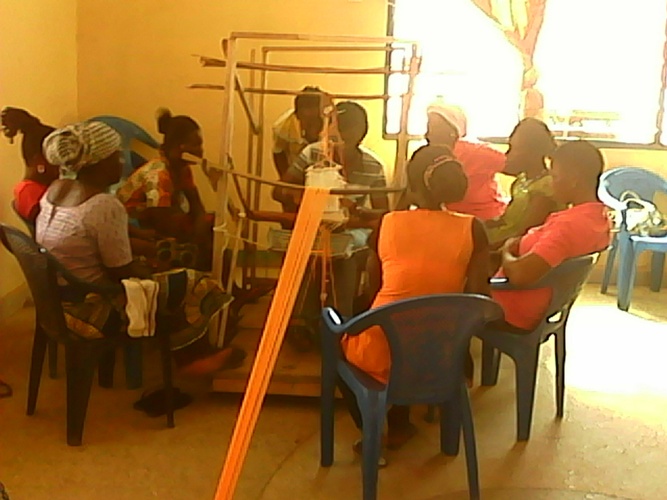 Once support is in place and schools are able to provide their students with the tools they need, practical courses such as this weaving class can be put in place to provide young people with lifelong skills.
---
WANT TO BE PART OF THESE LIFE CHANGING STORIES?
Sponsor a container: We need HK$ 50,000 to send any of our waiting shipments on their way. Email us for a list of projects needing funds: partnerships@crossroads.org.hk
Give goods: We can help your company or group find projects that need your quality superseded goods. Email partnerships@crossroads.org.hk
Volunteer: We need regular volunteers in a huge variety of roles across the work, from manual labor to administration and specific skilled roles. Email volunteer@crossroads.org.hk
Reference No : S3580A