Fiji: A second chance at school
Lelei*, like many in Fiji, does not live the picture postcard life. It's gorgeous in the tourist brochures, but, with poverty rife, far from gorgeous for those affected. That poverty brings horrible by-products: domestic violence, child labour and teen pregnancies, all reasons that children have to leave school. Lelei, at only fifteen, found herself pregnant and thought this would be the end to her education.
Mr Meka, her principal, is committed to giving students a second chance at life. As many as a third of his students have dropped out and been rejected by other schools. This has seen enrolment jump in the past two years, and their facilities haven't caught up. We sent 200 school desks and chairs, along with other educational support, last year. "The timing was impeccable!" Mr Meka said. "The container had enough school desks and chairs to fill five classrooms and it saved us so much money that we just didn't have."
The visionary school continues to keep its doors open and its students coming.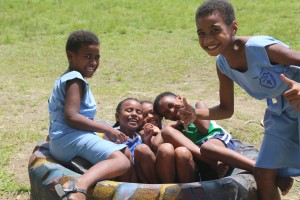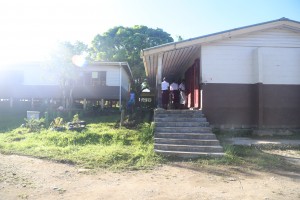 And what about Lelei? She's entering her final year in high school as the top student of her year and head girl. "I love (high school).  I love science, especially Physics!" she recently told one of our team members who visited the school in January.
We were heartbroken to hear of the cyclone that hit Fiji this month, particularly impacting people in fragile slum homes. Thankfully, the school and other groups helped by our shipment were undamaged, but they're working hard with local families to make sure that all are safe, and to help where they can. We are looking for more ways we can respond. Watch this space!
*name has been changed