Cola building bridges in Sierra Leone
In Boma, Sierra Leone, crossing the river from the old village to the new village used to be a muddy struggle. The villagers would walk across a few logs, which frequently got washed away in the rainy season, making life that much tougher for the people of Boma.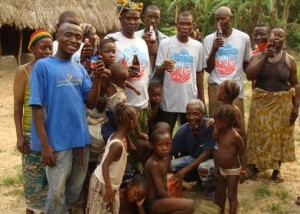 When our producer partners Karma Cola wanted to invest fair trade profits back into Boma, where farmers (right) produce the kola nut for their delicious drinks, they handed the decision over to the villagers. They decided to build a bridge! "In Sierra Leone, something as simple as buying concrete can be costly and challenging," says Karma Cola. "The construction of the Makenneh Bridge, while it may seem like a small feat, is a big thing for a village trying to rebuild itself after the war."
Now, you can be a part of the story of investing in projects like Boma's bridge, when you buy Karma Cola, or one of the other drinks from All Good Organics, Gingerella Ginger Ale or Lemmy Lemonade. All are available at Global Handicrafts' Silk Road Cafe now for $25.