China: Crafting new futures for the deaf
Cui Li grew up in a world of silence. Born deaf, Cui Li lived with her family in an impoverished region of China where nobody was able to teach her sign language and her parents had no money to send her to school.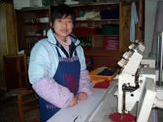 It was a lonely, friendless existence until, at age 13, Cui Li discovered a group of people who were deaf like her. One new friend taught Cui Li sign language and how to read and write. It was an opportunity that suddenly opened the world to the teenager. She could now communicate, her relationships with her family improved and she began to meet more and more deaf people, including one young man who then became her husband!
"The deaf population of China numbers around 72 million," says Hearts and Hands.  "Since the majority of deaf young people are unable to find adequate employment, many turn to gangs, theft, and drugs."
We're privileged to work with groups like Hearts and Hands across the world giving new hope to people with so many different needs. When you purchase a Hearts and Hands product through Crossroads' Global Handicrafts store, you're supporting people like Cui Li and her husband to build a life for themselves with dignity and honour.
(Cui Li's story and images courtesy of Hearts and Hands China.)