Zimbabwe grannies knitting hope
When Dorcas, of Zimbabwe, lost her job as a housemaid, she felt desperate. She had been forced to retire from the job, in the suburbs of the city, Mutare, because she was growing older, but as a widow with 9 children, and some grandchildren, Dorcas still needed to earn money for daily necessities. She had no prospects and no idea what to do.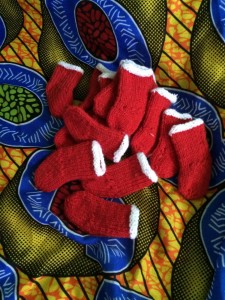 It was 2008 in Zimbabwe when a group of grannies like Dorcas decided they weren't going to be a statistic. These women, many of them widows, fought back against the catastrophic 94% unemployment rate with a weapon close to home: the knitting needle. They chose to knit because it requires no factory, no equipment and no infrastructure, and it can be done anywhere. Their name is as funky as their products: 'Gogo Olive'. In the Shona language, 'Gogo' means a 'granny', or someone similarly beloved. 'Olive' connotes 'hope': a commodity in short supply among the struggling people of Zimbabwe.
We've worked with Gogo Olive for many years now, selling their knitted animals in our Global Handicrafts shop. We've seen them purchase eyeglasses for some of their workers, with the 'fair trade premium' earned from their Global Handicafts sales. Dorcas, from the story above (pictured below), now rejoices that she can be part of the collective. "Although it was difficult in the beginning to learn the knitting, I now manage well and do my best. I now have money to pay for my rent and buy food," she says.
This year, we were excited to commission these same 'gogo's' to knit the ornaments (above left) that hang on our 2015 Christmas car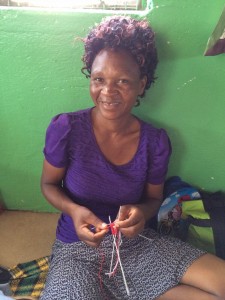 ds. We learnt that the benefit of extra income extended beyond their usual knitters. With such a large order, and running out of time, the group hit on the idea of employing women at their local prison to knit, for the same fair price, a number of the ornaments. They frequently visit women in prison and teach them skills that will help them find a safe and steady job when they are released. "When I was in the prison last week I was thinking how this will make Christmas a lot happier for these ladies and their families," wrote our contact at Gogo Olive. "Even though it is a short contract they can earn quite a bit of money that they can use to buy things they need in prison or give to their families. Thank you for bringing them so much hope at Christmas time."
We're overjoyed to know that we could help some of the most disadvantaged women in Zimbabwe, through our Christmas cards!