'Super' typhoon Haiyan/Yolanda devastated parts of the Philippines, leaving at least 5,500 dead and thousands more homeless.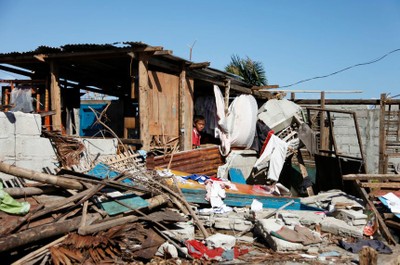 Local residents are putting their lives back together, and Crossroads has sent 4 shipments to help.
"The one beautiful thing amongst all the horrendous devastation is the Filippino community spirit," said our partner in the Philippines. "There's a lot of real ingenuity on the ground." One villager, Noe, lost his own house in the storm but "before he even began to rebuild his home, he has been helping his neighbours repair their fishing boats, knowing that their children desperately need food."
Before the typhoon struck, we already had a large stock of disaster kits prepositioned and waiting in our warehouse, thanks to ongoing efforts from volunteers and donors throughout the year. This meant we could respond immediately, shipping a container of kits and other emergency goods to our partners within a week of the typhoon.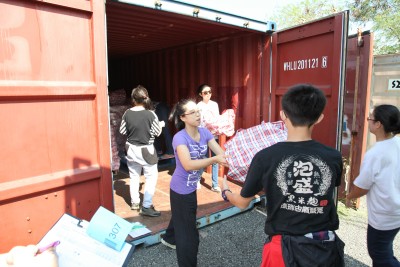 Students from West Island School helped load the container (above) and CNC Line generously carried it free of charge to the Philippines.
Containers of aid
Meanwhile, our phones were running hot and our email inbox bulged with offers of more and more disaster kits from schools, companies and families across Hong Kong who were desperate to help!
We began planning our second shipment, and when the deadline closed on 26th November, we counted up the donations: at least 2,630 kitchen and hygiene kits donated! We had enough kits and other goods to fill a further two 40′ containers, loaded on 30th November.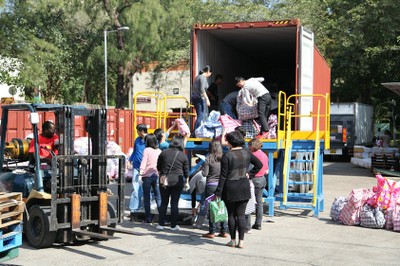 Each disaster kit contains kitchen or hygiene goods for a family group of six. This means that our amazing kit-collectors in Hong Kong have directly helped at least 15,780 people in need in the Philippines.
Volunteers from Standard Chartered helped to load the container, which included disaster kits, hardware for reconstruction, water purification tablets, mosquito nets, footwear and more.
Many from Hong Kong and around the world gave generous financial donations towards the shipments.
What next?
Now that the typhoon has passed, the world's media may have pulled out of the Philippines, but Crossroads hasn't.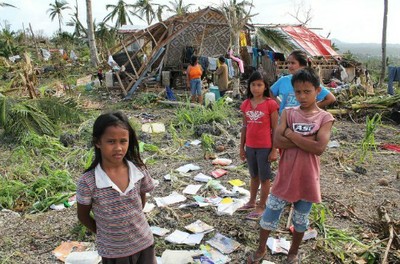 Typhoon Haiyan flattened entire villages. © European Commission DG ECHO
Our partners, who have run projects in the Philippines for decades, are committed to supporting the local people as they rebuild their homes and their lives. "These sorts of problems require long term solutions from organisations that are going to stay on the ground and partner with the people," they said. We will continue to work with them to see how Crossroads can best help their projects.
They've told us that what they now need most is hardware and building supplies, to help people reconstruct their homes. Because of financial donations that flooded into our disaster fund, we have now been able to source these items and send them in our fourth shipment.
We continue to look for ways to respond to the ongoing rebuilding process.