Disaster preparedness
When a flood or earthquake strikes, getting emergency aid to victims in time can be the difference between life and death.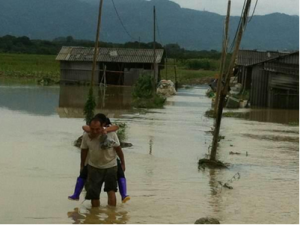 Crossroads has been working with a partner in China since 2002 to 'pre-position' relief supplies of blankets, clothing and other goods needed after a disaster. When we can regularly ship these emergency items into China, it means they can be stored in strategic areas, ready to go immediately after a disaster hits.
In November 2013, for example, a series of earthquakes hit Qianguo county, severely damaging housing and leaving thousands of people homeless in temperatures of -15 degrees Celsius. Crossroads' partner was able to launch a campaign within two days of the disaster, and on the third day, deliver Crossroads' pre-positioned blankets and clothes worth more than 1 million yuan to help 3,670 people.
This shipment will be similarly strategic, restocking supplies for their relief warehouse so that our partners can act quickly when people need urgent help.
---
After a severe earthquake in October 2014, hundreds of homes in Qianguo county were damaged and too dangerous to live in. While residents waited for help rebuilding their homes , they quickly constructed tents of plastic, or huts made of firewood (above), but temperatures fell as low as -15 degrees Celsius and they had no heating. Crossroads' partner delivered warm clothes and blankets to help the waiting families (left) and worked with them to relieve other basic needs.This shipment will include blankets, clothing and other relief goods to help victims of disasters in China like floods and earthquakes.