History says that the most recent war in DR Congo ended in 2003, but those on the ground live with a different reality, especially the ones in the nation's East. Here, there are still pockets of brutal violence, where families are fleeing their homes at a moment's notice, loved ones are slaughtered and rape is wielded as a weapon of war.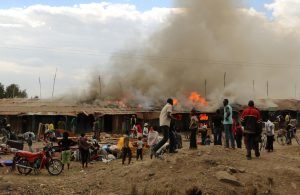 Pendeze, a young Congolese woman, lives in one of these communities. She can speak to the ongoing conflict from bitter, firsthand experience. When she was a teenager, Pendeze and her family were forced from their home during an attack. They tried to hide in the bush, but soldiers found the family and killed Pendeze's mother and father in front of her. It left a deep, open scar on Pendeze's young heart and she longed for revenge. She joined a rebel group and fought as a soldier while still in her teens, until finally, she had the opportunity to return home.  As with so many child soldiers, though, she found 'home' no longer existed. The warm faces of family and the close community she had known had been destroyed. She had to rebuild life from scratch. In this, she was helped by one of our partners, on the ground.
Despite the odds, this group has developed several strategic arms of support. They have created a refuge which our shipment helped furnish. In this haven, people can meet, finding healing after their years, even decades of trauma, including the sexual abuse which so typically marks these conflicts.
Our shipment also helped equip a medical centre. Hospital beds we sent are being used for new mothers and are, they told us, "so beautiful that the health centre manager felt obliged to repaint the room to fit with the beds"! Even the provision of something as simple as refrigeration played a role.  Prior to this, it was hard for them to get blood for transfusions, but "with a fridge, the blood is now made available and the community so much helped". That refrigeration also permits then to store medicine which needs temperature control.
Tools in the shipment created jobs for 50 youth, now able to find work as painters.  In a war zone, a reliable job, even a basic one, helps anchor lives.
Books in our shipment filled the community's first library since the start of the most recent conflict.
Finally, fabric and sewing machines from Crossroads have helped train people in valuable tailoring skills. Pendeze, the young woman whose life was devastated by her suffering, is herself one of the tailoring school's success stories. She now runs her own business, and owns two sewing machines. She's a walking example of hope, and how a shattered life can be healed and begin again.
Our partners are seeing many, many more follow in her footsteps, following the arrival of our shipment. They estimate that the goods we were privileged to send have impacted more than 4,000 people directly, and more than 10,000 indirectly.