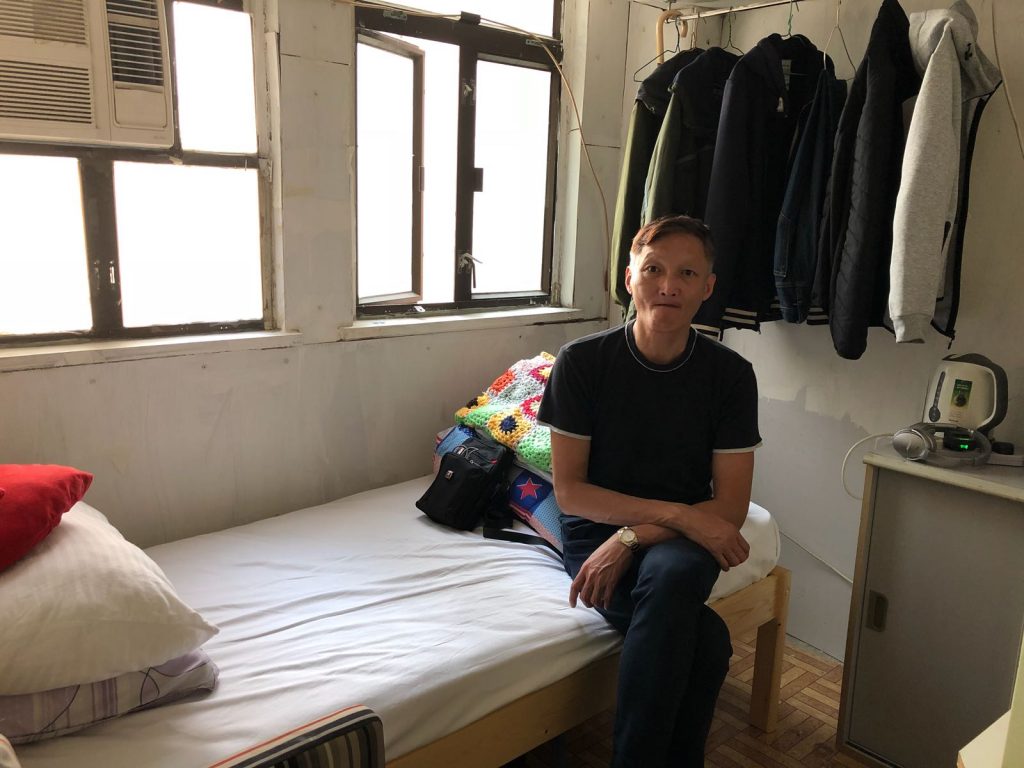 Meet Josiah. He's a Hong Kong citizen, but not one of those who works in a smart suit beneath the glittering lights of our designer malls and high streets. Josiah has lived at the other end of the spectrum. He moved out of home when he was young, and fell in with a bad crowd, soon becoming a drug addict. Without a decent job, and having to feed his addiction, he could only afford to live in the most basic accommodation possible. Poverty, coupled with one of the highest population densities in the world has led to tiny spaces being made available: beds for rent with sliding, lockable doors, in cramped, shared rooms. They are known, sadly, as cage homes or even 'coffin' homes as they are not much bigger than the bed itself. Josiah paid just HK$2,000 a month.
For years, he lived in this 'coffin' home, desperate to break out of this lifestyle, but not knowing how. "When you're in a coffin house, you can't change," he told our staff. "We always quarrel there. People just shout, there is no order. No relationship with neighbours."
It was a turning point in Josiah's life when Hong Kong NGO Impact HK reached out to him. The group has a focus on helping Hong Kong's homeless, giving them counselling, goods to meet their basic needs, and helping them find a place to live. They helped Josiah find an apartment that he can call home. It's just 70 square feet in size, but already Josiah feels a weight off his shoulders, and a new optimism for the future. He can talk freely and peacefully with his new neighbours, he has more privacy and a cleaner (bug-free!) environment.
Crossroads became part of Josiah's new journey when we helped Impact HK work with Josiah to find furniture for his small flat (he's pictured below at our site with our staff and his social worker). When some of our staff paid him a visit at his new home, he said, "I like my new bed and chairs! I am thankful to Crossroads."
What's most remarkable to us is seeing how these acts of kindness have profoundly affected him. They've moved him to 'pay it forward'. The experience has given him a heart to give back, grateful for how he's been helped by others. "If you need me to come and volunteer, just call me!" he said.
---
Want to help change lives like Josiah's? We're raising $4 million to help us continue serving grassroots families in Hong Kong and overseas. Your donation, however small, can help us reach our goal. Click here to give.