As the days wear on in the tragic aftermath of the Sichuan quake, the suffering deepens. 5 million survivors, now homeless, endure the daily battle with rain, exposure to the hostile elements and the threat of disease.
"In the days immediately following the quake," said our Crossroads worker in the field, "people settled in the open spaces. The problem has now become that there is little option for shelter in these areas. Groups of 20 people have been huddling in shelters made for 7."
Through the generosity of DHL, Crossroads was able to send 15 tonnes of plastic sheeting, blankets and medical supplies into the quake zone. Red Cross and Crossroads volunteers met the emergency flight in Chengdu and escorted the relief items on a 12 hour journey along partially collapsed roads. The final destination was a village in Qingchuan County, in an area that had been cordoned off due to the spread of disease.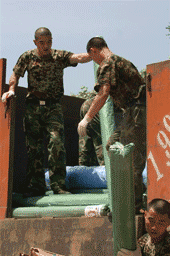 "Into this situation, the gift of shelter is unimaginable," the Crossroads worker commented. "As we delivered the aid, words of thanks kept coming from everyone, from the gas station attendants who were filling the tanks, to the ladies serving the food, the officials, and finally the people most deeply affected. On every side they were saying, 'Thank you for what you are doing to help our people and China.'
We are deeply grateful to DHL for the strategic provision of its core competencies in this catastrophic situation.
This was the second round of aid that we have prepared for the earthquake zone. Working from pre-positioned materials and in cooperation with KPMG we have also sent two containers of relief supplies.
Within China, Crossroads is partnering with the China Foundation for Poverty Alleviation: a registered China charitable organisation with distribution facilities in Sichuan, and head office in Beijing.
Help continues to be needed as we are committed to assisting not only in this current emergency situation but for the lengthy process of rebuilding.
"The people are relieved for a moment when you bring them the goods," said the Crossroads worker, "but when we ask them about the future, their eyes well in despair. Whole towns have gone. Fields for crops and livelihoods wiped out. We must be committed to helping these people in the long term."
IF YOU WOULD LIKE TO DONATE GOODS, Crossroads has been advised that, at this time, the urgent needs are for the following items. Important: It is China's policy that all donated items must be new. They are currently requesting:
• Blankets
• Bulk clothing, babies'and toddlers' in particular
• Tents
• Sleeping bags
IF YOU WOULD LIKE TO DONATE CASH, click here for our form and mark your donation, "China Earthquake". We will use your donation to cover the costs of sending this relief to those affected.
You are welcome to
contact us
for further enquiries.