What was wrong with this Christmas card?  The man in red was clearly not at the North Pole: he was in the sunny tropics. He was clearly not, either, borne by a set of reindeer; he was precariously perched on an animal he had named Rudolf the Red Nosed Water Buffalo.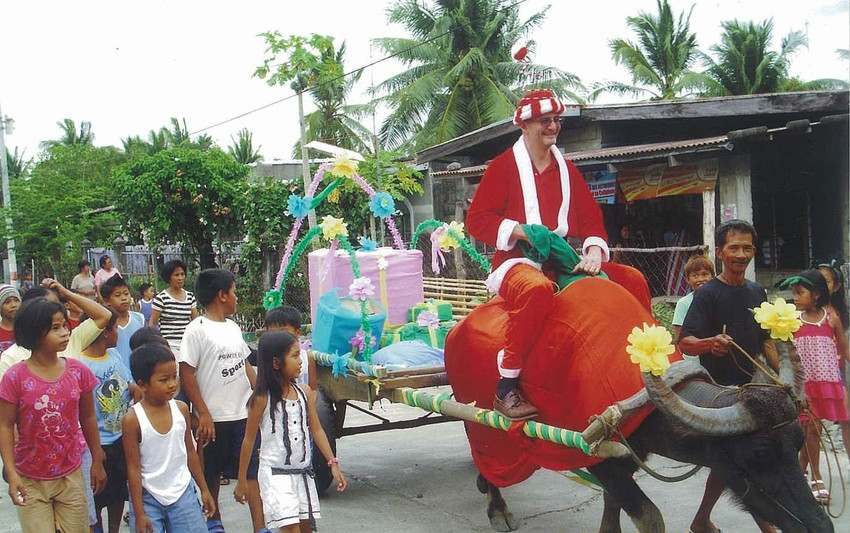 One look at the children's faces, though, showed that none of that seemed to matter! They were alight with wonder that special gifts were coming to them: they had been remembered and loved in a way they had not experienced before.
"It all began when I saw my wife shopping in Hong Kong," says Gavin Coates, Hong Kong's renowned artist and landscape architect. "What is all that stuff for?" I asked, as she emerged with large numbers of small gifts. I was less than excited at the prospect of lugging these all the way to the Philippines. "They're for the children," she beamed, adding a confident, "You'll see!"
A  few weeks later, Gavin says, he did indeed see the joy she had been anticipating. The two had returned to Gloria's home village in the Philippines, and offered the children a Christmas party, complete with Gavin dressed as Santa Claus on a water buffalo! Amid the high-pitched excited tones of the children's voices, one man turned to him with a serious expression to speak, as Gavin put it, 'with great heart'.
"You don't know what you've done," he said. "You've given something to the kids that they have never seen before."
He was right. After that first party, with 50 kids, Gavin and Gloria were asked to hold more. Each year, the size of the parties multiplied and the enthusiasm of the village grew with them.
In time, this compassionate couple began asking what more they could contribute to the lives of the village children. As they spoke with the local people, they received one consistent answer: education. For many children, the cost of school was simply beyond the family's reach. Without it, though, they were destined for a life in the fields, battling the poverty which beset their fathers and grandfathers before them. "The only way out, long term, is education," Gavin and Gloria were told. They began raising funds to put some of these little ones in school. Donors responded generously and the project grew as they supplied fees, uniforms, books and travel allowances: everything needed to ensure the children could attend. All funds were passed on directly to the schools themselves to maximise accountability.
Today, the Balanghari Educational Institute, as they came to call their project, sees scores of children schooled at primary, secondary and tertiary levels.
Crossroads has given supplies from its warehouse to support the work of the Balanghari Educational Institute and is now formally partnering with the project. If you would like to sponsor a child's school needs, through the BEI, you can click here to do so. Please be careful to write Balanghari Educational Institute in the online form. Or, if you would prefer to write a cheque, please send it to Crossroads Foundation, 2 Castle Peak Road, Tuen Mun, HKSAR and please indicate, on the back of the cheque, that it is for the Balanghari Educational Institute so we can be sure it reaches them safely.