Mr Chen*, at the age of 94, has lived through his fair share of tragedy, war and economic hardship.
Nothing, however, prepared him for the devastation that followed when a fire swept through his village in Tai O, destroying the home he had built and tended all his adult life. "This was the one thing I owned, the thing I was proud of," he told our staff when they visited.
In picturesque Tai O, the pace of life is slow and some families still depend on fishing for their livelihood. The average income for many local residents, especially elderly people like Mr Chen, is low. Where, then, was he to go? How was he to start life over?
Thankfully, Mr Chen was placed in public housing, so that, while he yet mourned the loss of his home, he could be safe and sheltered. However, we heard that Mr Chen had one critical need in his new home: a washing machine. This is a costly item, particularly for one at his age and stage of life. It is an essential for Mr Chen, though: his hands are no longer up to the task of handwashing his clothes and household items.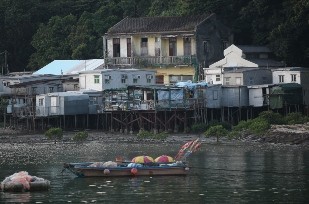 Crossroads was delighted to supply Mr Chen, and another Tai O family who had lost their home, with a washing machine that would help him on his road to rebuilding his life.
Our staff delivered it to this stoic gentleman, giving him what support we can.
Crossroads has an ongoing need for household appliances like washing machines and fans, to help people like those left homeless by the Tai O fires and families in need in Hong Kong and overseas. If you have appliances in excellent working condition, we'd love to hear from you! Visit our Donate Goods page to give.
*Name changed