"Meet my colleague. He has been to prison seven times", says the director of the Kazakh rehab centre. He beams as he speaks, though, because his colleague, like others in the centre, has not touched alcohol or drugs for a long time now and is no longer in danger of another prison term for associated crime.
All of the men here are middle aged. All have spent decades battling the pull of addiction. But, in this shelter, they have been winning that fight and there seems an almost palpable sense of relief.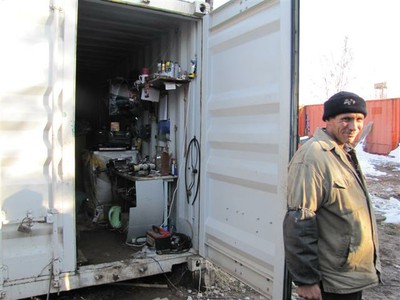 Each man plays a role in the modest lifestyle they share. They work the gardens until the snows come. They chop their own wood. They make one nourishing vat of soup each day and bake their own bread to serve with it. It's minimal, but this shelter offers a safe place.
That safety, however, is at risk. A philanthropist who formerly funded much of their work, has now left the country and his attentions have moved elsewhere. If the centre has to close, the men will be out on the streets.
They have an idea, though, that may help them stay sustainable. They have three containers in their yard which have now been all but emptied of the beds, blankets, clothing, washing machines, computers, desks, chairs, tiles and other items we sent from Hong Kong.
The men have arranged the containers as the outer rim of an automobile repair workshop which will, hopefully, provide them with enough income to stay open. The nicest of the containers is a brightly painted one donated by FABBAs (Hong Kong Fund Managers' Asian Brokers' and Bankers' Awards). It will face on to the street to receive customers, with a door cut in its side and a 'shop' area within. If all goes according to plan, FABBAs' generosity will prove be a gift that keeps on giving.
We salute FABBAs for a decade of strategic partnership with Crossroads, one which has seen many thousands of lives touched around the world.