At 60, Mr Mak is nearing life's end. He has battled lupus but, as well, has recently learned he is dying of cancer. The doctors have told him they can no longer do anything but help him manage the pain.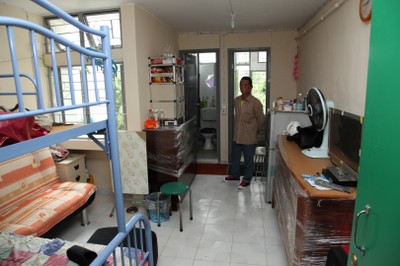 Before he became sick, Mr Mak worked as a welder on construction sites overseas and earned enough to support his wife, who is not Hong Kong-born, and three daughters. Now, though, he's returned to Hong Kong for better medical care and is too sick to work. As a foreigner, his wife is not yet able to earn money so the pair is completely dependent on social welfare to survive each week.
He was granted a government flat, and advised by his social worker to come to Crossroads for his furnishings. At the time, he personally owned only a bunk bed and a fridge. Without any cupboards, he could only store his belongings in stripy bags on the bunk. With no couch, they could only use its lower bed as the one place to sit.
He came to visit Crossroads, however, and chose all his other furniture needs: a small couch, side table, two large cabinets for storage, drawers, chairs, a washing machine and other items. Later, one of our team visited and asked Mr Mak what makes him happy, day to day. He replied, "Having this lovely apartment and sitting by the window on my couch." The gratitude and humility that radiate from Mr Mak are remarkable.
Mr Mak is one of thousands of people across Hong Kong who ask us for help. Each week, in partnership with the Social Welfare Department, we work with 40 or so people like him: individuals whom life has dealt a heavy blow and who need support. Each is worth cherishing and caring for, whether a young child full of hope and potential, or a quiet, humble man at the end of his life, with nothing left to give back.
How you can help
Generous donors of goods and funding keep our Hong Kong distribution department running each day.
Donate goods
We are especially in need of computers, rice cookers, microwave ovens, electric kettles and irons to distribute to needy Hong Kong families. Click here to donate any of these items 
Donate money
Just HK$250 can allow Crossroads to help ten people like Mr Mak. Donate by clicking here.