Salim's Story: Fighting to Survive the Winter in a Refugee Camp
In the midst of a bitter winter, Salim*, age 2, tries to stay warm at a refugee camp near the Syrian border. With temperatures nearing sub-zero, Salim will face this brutal winter in a snow-covered tent with only the clothes on his back to keep warm.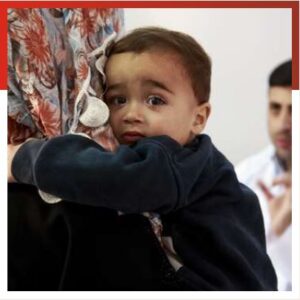 The cold days are long, but the nights are always longer for Salim. When the sun goes down, the temperature drops, and he can feel the freezing air against his cheeks. He shivers to keep his body warm but with no blanket he has nothing to protect him from the cold air breezing through the tent. He is one of many children fighting to survive the winter in a refugee camp, and as the conditions turn treacherous, he is in desperate need of warm clothes, blankets and food.
Children are the most vulnerable in refugee camps. They have been taken away from their homes, schools, friends and families, and have been forced to start new lives in strange environments. Save the Children is on the ground year-round, providing the basics – like food and blankets – offering programs to help them cope with tragedy. We have also established temporary learning centers where children can continue their education in safe and quality learning centers. With your help children like Salim can get the supplies he needs to survive the winter, receive an education and learn to be a kid again.
---
As of May 2022, there are over 100 million forcibly displaced people in the world.
Why are people displaced?
Armed conflict
Violence
Human rights violations
Natural hazards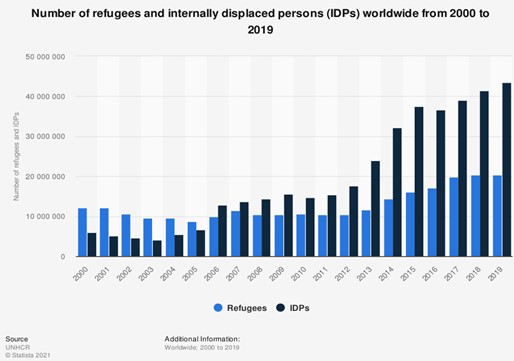 ---
Displaced people face many more struggles than being forced to leave their homes.
Many displaced people suffer from trauma, and women and girls are at high risk of gender-based violence.
1 out of 5 forcibly displaced women have faced sexual violence.
(Remember that sexual violence is often underreported). And since the outbreak of COVID-19, instances of domestic violence, child marriages, trafficking, sexual exploitations and abuse have risen sharply. (UNHCR)
As of 2015, only 42% of the Afghanistan population had a complete birth certificate. WB In many under-developed countries, the problems above are only exacerbated as many people do not have the legal paperwork required to prove their nationality, and therefore do not receive the protection owed them by their country.
In some instances, such as the Rohingya, forcibly displaced persons are actually stateless, meaning that they are not a citizen of any country. Where should a person like this go for shelter?
4 million stateless people were reported in 2021, but the real number is estimated to be closer to 10 million. UNHCR
Many children lose access to education when they are displaced. Although international agreements protect the rights of refugee children to education, many internally displaced children, especially in unstable countries, will lose access to quality education. In the cases of refugee children, the education they receive may still not be sufficient, as many refugee camps are overcrowded and lack resources, and still require tuition fees which many refugees cannot pay.
"For ten years living in the refugee camp, not once was I given a textbook to keep. Not to mention regular books to read which I rarely saw." Wilson Kubwayo
An estimated 128 million primary and secondary-aged children are out of school in crisis-affected countries, including 67 million girls. Only half of refugee children attend primary school, and less than a quarter are in secondary school. Children in conflict-affected countries are 30 per cent less likely to complete primary school and 50 per cent less likely to complete lower-secondary school. UNICEF 2020
Both refugees and internally displaced people (IDPs) often face protection challenges and lack access to shelter, food and other basic services. … Violence, abuse and exploitation against them often peak in the aftermath of new emergencies.