The volunteers were bewildered. They had been visiting the Wong family, in Hong Kong, for several months before, on one occasion, they heard unexplained sounds coming from the bedroom. The Wongs' sub-divided apartment space was tiny. At just 150 square feet, it housed two parents, one grandmother and two children. One member, though, had been absent every visit: Mr Wong, the father, had been hiding in the bedroom, eavesdropping on the discussion but not joining in. Our partner NGO, Hope of the City, explained: "In most of our visits, the fathers don't really show up until they know that you care for the family. That's when they start coming out."
Hope of the City invests days, weeks, months and even years among grassroots families in some of Hong Kong's neediest districts, coming alongside them to provide programmes such as homework support, family bonding activities and mentoring.
So when they opened a new centre in Sham Shui Po, Hope of the City wanted to create a special space for men. We worked with them to find couches, chairs, lamps and a refrigerator from our warehouse to furnish an entire floor where men could enjoy one another, build relationships and access support. "We're trying to make this space look homely, like a living room", said Kevin Lu, Senior Coordinator of Volunteers at Hope of the City, "Fathers don't always want to be categorised as 'beneficiaries'. They need a different space. So that is what this floor is for. Our volunteers can build relationships here."
We're honoured by the chance to come alongside local groups like Hope of the City, as they work with Hong Kong's low-income families. Kevin's words touched us as he concluded: "I think a lot of NGOs work too hard and think that we're all alone. But when we were opening this centre, we already knew about Crossroads. Knowing there's an NGO that will help us do our job better is an encouragement."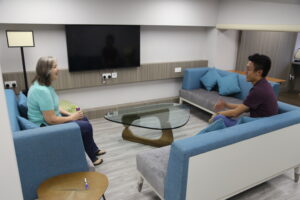 Hope of the City staff enjoy their new space in Sham Shui Po where men from low-income families will find support and community. Most of the furnishings came from Crossroads' warehouse, including three superb couches from the Excelsior Hotel's closing donation.