Benin: The multiplier effect in action outside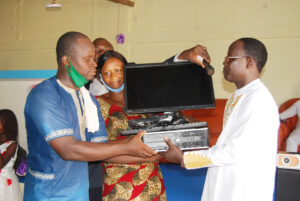 Outside Benin's bustling major cities, opportunity can be hard to come by. Take Moise, a young man in a remote village with a dream to open a community IT centre. His goal was for this to be a place where young people who've never touched a computer could access the Internet for the first time. [no new paragraph] He also wanted it to empower small business owners to print documents or use software they needed. The motivated Moise brought his dream to life, building a modest IT centre with a single computer. The outdated computer didn't last long, though, and when it broke down, Moise was back to square one. He watched his some of his newly-won customers travel to another town to use services there. He watched others, who couldn't afford to travel, simply lose their only access to the Internet because his computer was now useless.
"Young people now have access to the internet! Women who had nothing now have the equipment to start businesses."
When we shipped goods to our partners in Benin, they used them as a capital investment for young people like Moise. They set Moise up again and are now walking with him in his small business goals. Moise said, "Thanks to this, the whole village now has access to the services of our centre. Young girls and boys are learning how to use computers!"
We've told Moise's story to give a close-up picture. Zooming out, though, the entire shipment to Benin is itself a case-study of the multiplication effect we see when goods bring strategic change to communities in need.
34 computers from Crossroads' shipment equipped three new computer centres, now open for business. 90 youth have undertaken internships to learn business and IT support skills at these computer centres and 20 people have been employed by them. 11,700 customers at the three centres each month can now access technology for work, school, research and office services.
20 refrigerators/freezers from Crossroads' shipment supplied projects that train and employ young women in fruit juice production. Today, 300 women from poor backgrounds are employed through their programmes in juice production and sales, directly made possible by these refrigerators. In turn, their combined communities of 60,000 people have access to nutritious fruit juices, cakes and other food services offered by these enterprising women and their refrigerators.
74kgs of fabric and other goods supplied to our partners' tailoring training school have doubled their capacity, increasing enrolment from 60 students to 120.
Mattresses and bedding from the shipment quadrupled the capacity of their orphanage from 30 children to 120 children. 5,000 people from poverty-stricken homes were helped with brand new clothing and shoes. Bicycles were given to students who were previously walking many miles to school and at risk of dropping out. In total, the shipment included more than 11,000kg of donated goods, all telling stories of impact that go on and on.
The 2020-21 period was a challenging one for our international shipments, but we're incredibly grateful for the volunteers, goods donors, shipping sponsors and financial donors who made it possible for us to ship where we could and continue that magical multiplying effect that poor communities need so desperately.
We often talk about the Crossroads equation, where donated items can multiply in the lives of many others. The Benin shipment is one more shipment that demonstrates it! That's the reason we love this work, and your support of it!