WHO IS THIS SHIPMENT HELPING?
This shipment has arrived! Click here to read more.
Benin, bordered by Togo and Nigeria in West Africa, is rich in natural beauty but is one of the world's poorest nations. Many of the nation's 11.5 million people still lack access to basic social services and are dependent upon subsistence farming, which is threatened by climate change, further endangering already fragile livelihoods.
Our partners work at the grassroots to empower women and youth with skills and support that will lift them out of poverty. We shipped to this group several years ago, with goods like sewing machines, furniture and computers, which allowed them to make such improvements as:
• Setting up a computer centre using goods from the shipment where youth can access the internet and learn employable skills
• Equipping a sewing training centre where girls and women can learn sewing to empower them with the skills to support themselves and their families
• Doubling the capacity at a care home for children, by expanding the facilities using furniture and other goods from the shipment
"Thanks to the support of Crossroads Foundation, our NGO has experienced a real change in terms of its services and the quality of its work for the people it supports in Benin," they wrote. "But more areas and populations are waiting to be reached and affected as well." The second shipment will allow them to expand their services into more remote communities in desperate need of help.
---
GRACE'S STORY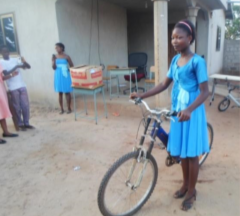 Grace, in 3rd form, is a grateful recipient of a bicycle from Crossroad's previous shipment. It was hard for her to get to school on time, traveling on foot, and she was often late for class even if she left home early. Having a bike has dramatically reduced her commute and made it that much easier for her to stay in school and improve her future. This shipment will include goods for students like Grace whose education is suffering for lack of basic resources.
Goods from this shipment will help our partners reach more people like Grace.
---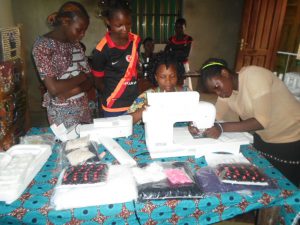 Sewing machines changing lives
As an unemployed widow in a rural area, Martine (above) was finding it very hard to climb out of poverty. Now that she's learnt sewing skills using the equipment from Crossroads' 2016 shipment, she's been able to take on small jobs and can now afford to buy clothes for herself and her children, and feed them properly, as well as pay for their health and education
This shipment includes goods to help administer the training programmes (below) that changed Martine's life, so that more women can move from just surviving, to a life of stability for them and their families.
---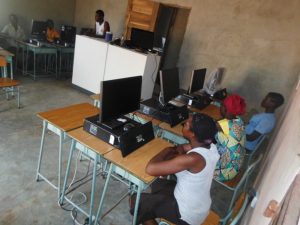 Computers and furniture from the shipment have set up a community computer centre, where youth can now access the internet, use computers for their schoolwork and learn skills for better employment opportunities
Benin's beautiful and fertile landscape holds great potential for its people, but low literacy and education, and poor infrastructure, make it difficult to break out of poverty. .  
REFERENCE NO. S4125A