Aston Carter: Mentorship Empowering Asylum Seekers
"Nobody is born to be a refugee," says Isaac, from a war-ravaged African nation. "Nobody chooses to be one."
We're not naming his country, but Isaac escaped civil war there, with just one thing on his mind: survival. When, though, he arrived in Hong Kong and sought asylum, there was a new, complex world to navigate. First, he, as with all asylum seekers, needed to face the round of interviews required to see whether asylum would be granted. Second, if granted asylum, he and those like him must then seek work as refugees, in some cases locally, though normally internationally.
Much of this is a world away from the one he had fled from. How should one handle interviews with officials, meetings with potential employers, and communicating in a professional way? It was a source of anxiety and confusion for Isaac, as for many.
The HR company, Aston Carter (Allegis Group) found a way to help. A group of its staff did our Struggle for Survival poverty simulation this year and found it eye-opening. "The impact was truly fantastic on everyone," said Emma Watts, an Aston Carter consultant. "It created a mind shift for many people."
The company already had social responsibility champions within their Hong Kong staff, but they sensed they could be more strategic. "When we first started, we did a lot of fundraising events," said Emma. "Then we realised we could have greater impact if we could use our strengths."
Being an HR company, Aston Carter realised they could help prepare people such as Isaac for what he would face. Working with Crossroads' engagement team, they planned training events in interview skills, CV-writing and professional communication. Their first workshop in mid-2017 left its mark on participants and the Aston Carter staff alike.
"It really opened the minds of so many of our staff," said Emma, adding, of the asylum seekers: "It was fantastic to see just how much energy and hope they had, given their current situation, inspiring to all of us. This is what drives us to want to do more."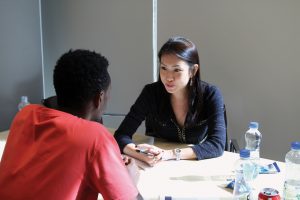 Aston Carter's training workshop for HK asylum seekers.
Those who attended likewise walked away changed. Rehan, from Pakistan, said, "This is the first time I've experienced this kind of training. I learned how to communicate with people for job interviews, and how to present myself."
Of those first 14 participants, some have now moved on to the next stage of their journey. One young woman from Somalia, now resettled in Canada, is working in hospitality, and another from DR Congo was granted refugee status in Hong Kong and secured a job in a restaurant.
We love Aston Carter's heart to look beyond their four walls and use their company expertise to engage with the real needs of the community around them. They write:
'We are committed to showing that we are a responsible business. We partner with charities across our region… through volunteering activities and mentoring schemes.' Or, in Emma's words: 'Having an impact on your local community is important for all companies to recognise. It's all a matter of someone stepping up to take ownership of driving this in their offices.'
Do you want to step up and champion change from your office? We'd love to help explore ways your company can connect with those who need your expertise.  Email partnerships@crossroads.org.hk to start the conversation.