Syria: Aid and empowerment for refugees
WHO IS THIS SHIPMENT HELPING?
This shipment feedback has arrived! Click here to read more.
The war in Syria has been devastating lives for more than 10 years now. According to the UN refugee agency, there are 13.5 million displaced Syrians – more than half the population. Some of these people have sought refuge in other nations, but many have been internally displaced, living in temporary homes or in war zones, trying to survive with their families.
Crossroads has shipped twice to partners who are helping internally displaced people in Syria. Goods from our shipments have helped with immediate needs, such as warm clothing and sleeping bags and toys for children who have grown up in a war zone. They've also helped with longer-term needs, like school furniture to set up classrooms for displaced children and goods for job creation, in areas where employment is at rock bottom.
We are pleased to be able to ship once again to support their vital work with such vulnerable communities. Our shipment will include clothing, footwear, toys, school supplies and household goods.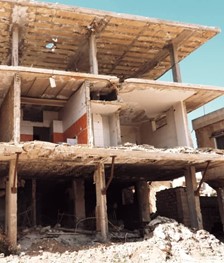 "This is a war zone," write Crossroads' partners. "Everyone does whatever they can to survive." The photo to the left shows the kind of damage to buildings in the area where they serve. Both displaced people and those who were already living there are battling the poverty that comes with years of living through war.
Our partners help with training and job creation programmes to support those who are struggling, often finding it hard just to feed their families.
---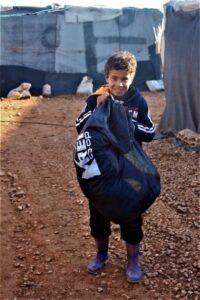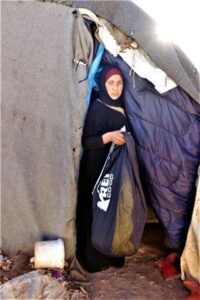 Sleeping bags from Crossroads have been a truly valuable donation in this area where many are living in tents without sufficient bedding. Temperatures can be bitterly cold through the winter months.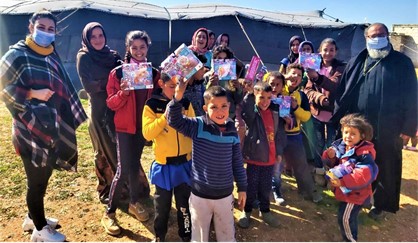 Thousands of brand-new toys from our shipments brought joy to children in this rural, war-torn area who have never held a new toy in their lives. They have spent their entire childhoods displaced or living in a war zone.
---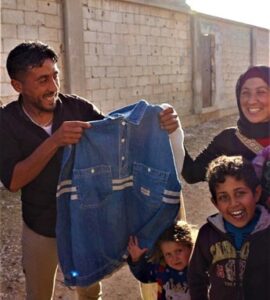 Abdul's story
Abdul is a 42-year-old father of five and he lives with his family in the war zone where Crossroads' last shipment to Syria was distributed. Abdul earns a small income from farming, but it's barely enough to keep them alive. The family lives in tents made of old sheets and fabric. They get wet when it rains, they feel freezing in winter and boiling hot in summer.
After Crossroads' shipment arrived, staff visited Abdul's town with goods from the shipment. "The area in which they live has never been reached by aid from any organisation or association," said staff. Abdul's family were among those that received help, including new clothes and new, warm sleeping bags. His children were given new toys, along with more than 6,000 other children in the rural areas they visited.
This shipment will include goods to support the urgent needs of more families like Abdul's.
---
S5477B