Supporting and empowering young people
Emily, a young teenager in rural Kenya, longed to go to school but her family was too poor to afford even the small cost of buying a school uniform – a requirement at Emily's local school. Josephine, 14 years old, had to miss school every month for a different reason. Like many girls in her community, Josephine was forced to stay home during her monthly period because she had no access to sanitary protection. She missed an average of 46 days of school a year. Josephine and Emily are both girls whose lives have now been changed by Crossroads' partner in Kenya, an NGO serving a community of about 250,000 people, where many live in poverty. In one of their programmes, they identify girl children who need help to attend and stay in school. They provided Emily with brand new school uniforms, so that she can now join her peers in class, and they helped Josephine and many more girls like her with a supply of sanitary pads so that now, she doesn't need to stay home and miss lessons every month.
The work our partners do in their community is helping children break their family's cycle of poverty, first by staying in school, then offering recreational and educational activities for youth, and then income generating schemes once they have finished school. Crossroads has shipped a variety of goods which will have life-changing implications!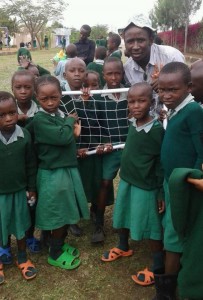 Staff have begun the distribution of goods that will help them impact their community:
Books and computers from Crossroads will create the community's first ever library. In a region of 250,000 and 36 schools, there is currently no library at all. Clothes and shoes will change the lives and health of many of the poorest children. "Many children wear tattered clothing," staff told us, "and a majority of them go to school without shoes. The children have to walk barefoot into the pit-latrines, and this exposes them to the risk of contaminating diseases." The staff have written to say the library is underway, in collaboration with the local government office.
Furniture from Crossroads will equip their youth centre, a place where young people from around the community come together to watch television, socialize and be encouraged by the staff. "The lack of enough furniture in our premises continues to hamper our opportunity to enrich and empower their lives," they told us. Toys from the shipment will be used in a new centre soon to open for the community's disabled children, as well as in the NGO's regular community centre, where children can visit during weekends and after school.
It's exciting to see the goods begin distribution and truly making a life changing impact for girls, like Emily and Josephine.