How you can help Türkiye/Turkey and Syria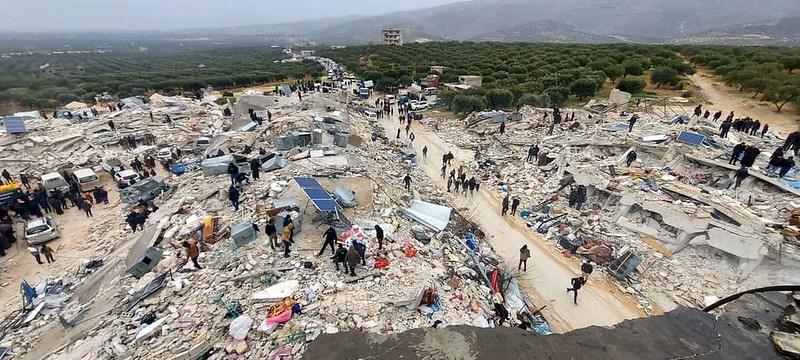 Photo above and at bottom: (c) EU Civil Protection and Humanitarian Aid
On 6th February 2023, Turkey's Kahramanmaras  province was hit by a 7.8-magnitude earthquake, followed by devastating aftershocks. The combined impact of the earthquakes has been catastrophic across the region, killing more than 55,000 people and injuring more than 100,000, in addition to millions of people that remain displaced and living in temporary shelter accommodations across the region.
"As the people in the region deal with the devastating consequences of this tragedy, we want to tell them that they are not alone…," said the UN relief chief and head of OCHA, Martin Griffiths. "The humanitarian community will support them in every step of the way out of this crisis."
Crossroads is joining the efforts with an appeal for funds to give relief for the needs of those suffering, as we discuss with partners in the region about how we can help most effectively.
What Crossroads has done:
February 2023: Clothes via the Turkish Consulate of Hong Kong
We sent boxes of much-needed winter clothes to help Earthquake survivors overcome the harsh weather soon after the disaster.
March 2023: A 20ft' container to Syria
Our first shipment of disaster relief goods has arrived in Syria, with the collaboration of a Hong Kong NGO. Crossroads worked closely with a trusted partner in Syria to prepare this shipment including critical goods such as clothes, footwear, blankets mattresses, personal hygiene items, and wheelchairs.
April 2023: Hygiene supplies and sleeping bags via Lufthansa
We partnered with Lufthansa Airline to send boxes toothbrushes, shaving kits and sleeping bags.
May 2023: A 40ft container to Syria
Our second shipment of humanitarian aid included essential goods such as hospital beds, heaters, sanitary items and footwear.
We are thankful for the financial and goods donations that made all of this possible and that we get to contribute to the wider relief efforts.
Donate funds
You can donate to our Turkey Earthquake fund now, using the button below. In the form, note that the funds are for 'Turkey earthquake'. If you're running your own fundraiser for Turkey and Syria, we can help to channel the collected funds to our trusted partners.
Thank you for caring for those experiencing such devastating loss in Turkey and Syria.