Zambia: Education and community development
WHO IS THIS SHIPMENT HELPING?
This feedback has arrived. Click here to read more!
Zambia has faced an unsteady economy in recent years, and nowhere is that more visible than in the nation's rural areas. Here, the poverty rate is almost triple that of people living in urban areas. HIV/AIDS is still endemic, affecting over 11% of the population.
Our partners in Zambia have been working to help their communities by establishing firm and sustainable foundations of education, financial aid, vocational programmes and nutritional advice. These ensure that children have access to a good diet and education, and that families can create their own income through agriculture, manual labour and practical skills like carpentry and cookery. There are also programs to increase young people's awareness of the social factors that can lead to contracting AIDS and HIV.
This shipment will allow our partners to provide these services and give them the opportunity to expand the number of programmes and increase the number of people they can help. We are sending books, stationery, school and office furniture, and electrical goods, including computers, to help with the education and training programmes, long with clothes and bedding to help those families who are unable to afford them. These goods will help build the foundations on which these communities can grow, and we are proud to be a part of that.
---
New school under construction

Our partners are building a school, due to open in 2022, which will give education to children who currently can't afford to go to school. They've asked Crossroads for help with goods like school furniture, educational resources and other things to help them give quality schooling to children who are now missing out.
---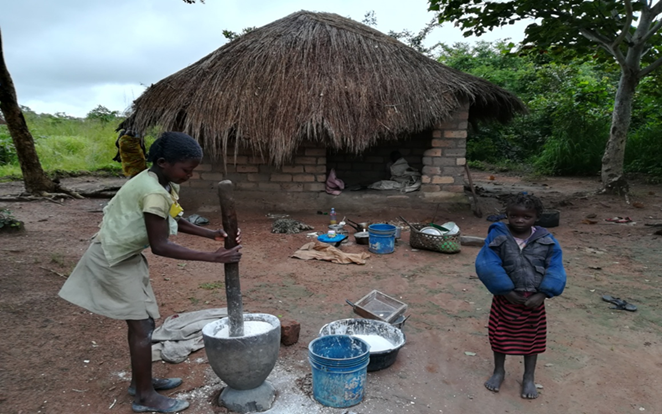 These two children must stay at home to help their mother, rather than go to school, as their family can't afford school fees.
---
Benjamin's story
Benjamin was enrolled in an electrical engineering course, but he was forced to drop out of college as he could not afford the fees. Shortly afterwards he was helping with our partners' school construction project and his needs came to the attention of the staff.
Our partners enrolled him in their education programme, meaning that his fees would be paid for so that he could finish his studies.
Benjamin completed his course in December 2019 and is now ready to look for employment as a qualified worker.
Goods from this shipment will equip our partners to help more motivated young people like Benjamin, giving them a chance to complete their education and enrich their employment possibilities.
---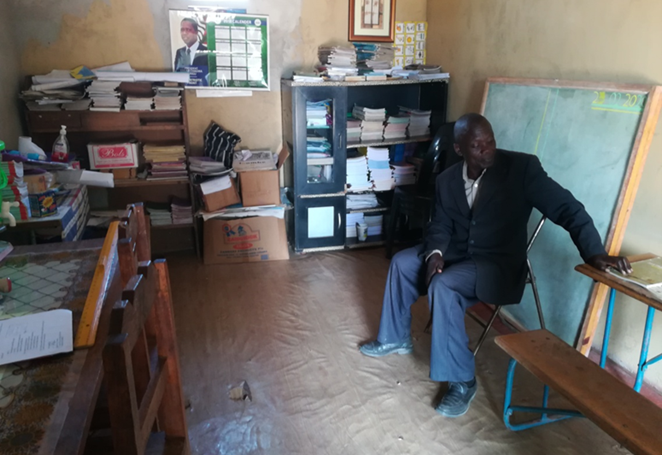 One school in the area has only the equipment shown in this picture to provide education and training to the community.
---
S5481