Skills training and community development
Feedback:
Zambia has faced an unsteady economy in recent years, and nowhere is that more visible than in the nation's rural areas. There, the poverty rate is almost triple that of people living in urban areas. Managing the Covid-19 pandemic has put an additional strain on already-stretched resources.
We were delighted to ship to an organisation in rural Zambia who is working hard to develop their communities by establishing sustainable foundations of education and vocational training. Crossroads sent a huge range of goods for their projects, from school furniture to computers, to Covid-19 protective equipment, to wheelchairs, to office furniture, stationery and more.
Our partners spoke enthusiastically about the impact the shipment made on their credibility as an organisation. It boosted their reputation and trust among the community, as well as with the government.
"When the container arrived, loaded on a big truck and trailer, it sent a serious message that international organisations are partnering with us. Even the government has now placed much more faith in our work."
Distributing the goods also gave them new opportunities to interact with their beneficiaries, meeting more of them face-to-face and giving a platform to better assess their needs and help more effectively.
Some of the goods in the shipment – Covid-19 prevention supplies and other medical goods – were particularly timely.
"The shipment arrived when Covid-19 was at its highest peak. The medical equipment could not have come at a better time."
Other goods have been transformational in different ways, including office equipment and furniture, computers for the library of a health sciences college, school furniture and supplies, and goods to help run training programmes such as fish farming.
Receiving these goods saved thousands of dollars from their budget in equipping their new building complex. "We now have furniture for our office, computers, printer and chairs to use in our hall. Our kitchen has equipment and many training sessions have now been conducted using the projectors, white boards, chairs and so on." We're so grateful to all who helped make this shipment possible. See photos and captions for more stories of impact!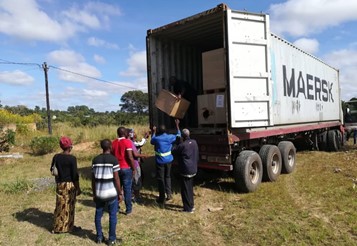 "When the container arrived, the community was elated," wrote staff. "They were on hand to help unload the items!"
---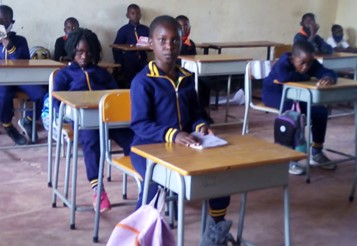 This rural school received stationery, school supplies and 60 desks from the shipment, increasing enrolment by an estimated 30 percent. Staff said that being easily portable, the separate desks have also made it easier for the school to facilitate social distancing during Covid-19.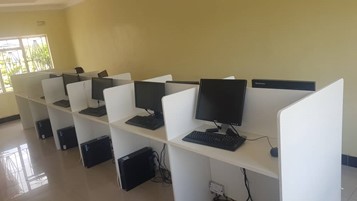 Computers from the shipment are now installed in a local college of health sciences, allowing tertiary students to go online for research and coursework.
---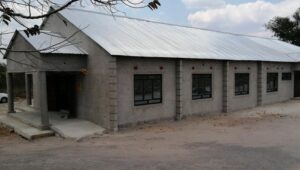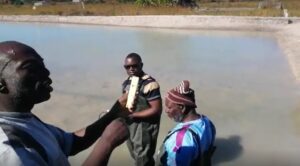 Vocational training for fish farmers
Our partners' new centre (above, left) was recently completed, and our shipment filled it with the furniture, equipment and supplies they needed to run skills training workshops. "As a result of this shipment, we were able to hold training for provincial fish farmers, which included participants from the Ministry of Education." So far, they've trained 45 start-up fish farmers, which will create job opportunities and improve food security for their communities.
What's more, the shipment raised our partners' profile to such a degree that they're now eligible to monitor all fish farmers in the province. "The cooperative will reach more than 200 fish farmers in its first year. This has all come about because of the shipment!" they wrote.
---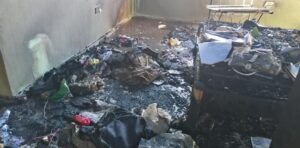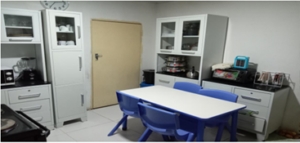 Rebuilding after fire: distribution for vulnerable families
After a house fire destroyed everything for one local family, our partners were able to help with goods from Crossroads' shipment (pictures above show before and after the donation). The range of goods we shipped meant they could give them enough to completely start anew, with furniture, bedding, clothing, curtains, kitchen appliances and more. Basic goods like these reached hundreds of families in our partners' region. They reflected that the distribution gave them a special opportunity to go out and assess the needs of their local community, listening to their concerns and responding with what they most needed. "This was of great help," they said.
---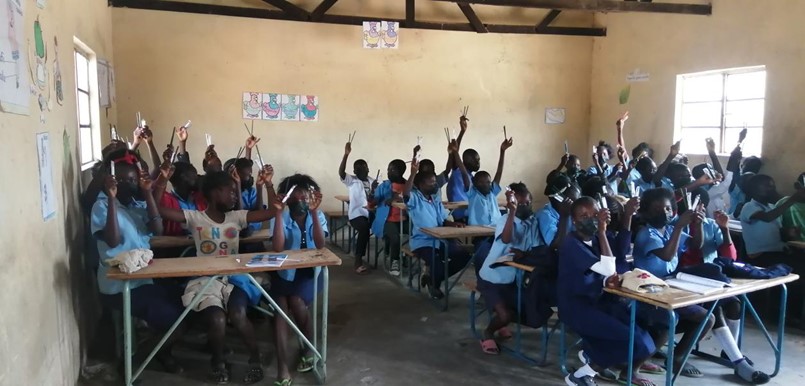 Supporting schools through Covid-19
"Funding for schools has been difficult lately," wrote our partners. "There is pressure on government coffers due to the pandemic. Efforts have shifted to spending on health equipment and medicines."
They appreciated being able to support schools with the donated educational goods from the shipment, like stationery and books, as well as face masks for students.
---
S5481