Around the world today, there are over 25 conflict zones. War is forcing millions of people from their homes. And wherever there is war, there are explosions. There are over 100 million landmines and unexploded ordinances across the globe. The poster below is from a primary school in Afghanistan that teaches kids how to avoid landmines: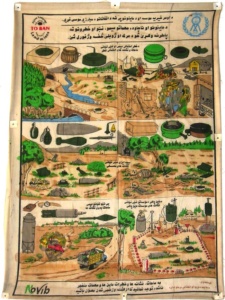 Landmines don't usually go away at the end of a war, making it hard for people who return home when the fighting is over.
Learning more about landmines
It is estimated that there are 110 million land mines in the ground right now. An equal amount is in stockpiles waiting to be planted or destroyed.
Mines cost between $3 and $30, but the cost of removing them is $300 to $1000.
According to the 'International Campaign to Ban Landmines network', more than 4,200 people, of whom 42% are children, have been falling victim to landmines and ERWs annually in many of the countries affected by war or in post-conflict situations around the world.
Mines kill or maim more than 5,000 people annually.
Mine and explosive remnant of war casualties occur in every region of the world, causing an estimated 15,000 – 20,000 injuries each year.
Overall, about 85 per cent of reported land mine casualties are men, many of whom are soldiers. However, in some regions, 30 per cent of the victims are women.
Mines create millions of refugees or internally displaced people
The areas most affected by land mines include: Egypt (23 million, mostly in border regions); Angola (9-15 million); Iran (16 million); Afghanistan (about 10 million); Iraq (10 million); China (10 million); Cambodia (up to 10 million); Mozambique (about 2 million); Bosnia (2-3 million); Croatia (2 million); Somalia (up to 2 million in the North); Eritrea (1 million); and Sudan (1 million). Egypt, Angola, and Iran account for more than 85 per cent of the total number of mine-related casualties in the world each year.
Until recently, about 100 000 mines were being removed, and about two million more were planted each year.
If demining efforts remain about the same as they are now, and no new mines are laid, it will still take 1100 years to get rid of all the world's active land mines.Source: Landminefree.org
How you can help
Sponsor a shipment
Though it's complicated to ship to warzones, Crossroads sends shipments to places in conflict. You can raise money to sponsor one with your school, company or organisation.
Collect kits
In times of war, emergency kits are helpful. You can collect first aid kits, hygiene kits or other kits for Crossroads to distribute.
Collect emergency goods
Goods like new sleeping bags, blankets and clothing can be valuable in warzones or surrounding areas. Crossroads can include such goods in our shipments to war-affected countries.
I have my own ideas!
Got ideas of your own? Get in touch to discuss it with Crossroads!