SHIPMENT FEEDBACK
Angel is a teenager in rural Zambia. His father died when he was young, and then, at the age of six, Angel stopped attending school and started hanging around market places, drinking alcohol with other children. Thankfully, at age 10 he was adopted into our partners' programmes for vulnerable children and enrolled into grade three. Now, after counselling with voluntary health workers, and support to stay in school, Angel has turned his life around. He is fully committed to school and eager to graduate and train as a pilot!
Angel's story exemplifies the impact that intervention can make in the lives of orphans and vulnerable children in rural Zambia. The right support can be the difference between a life of destitution, crime and unemployment, and a healthy, thriving future. Our partners, who helped Angel find new hope, run projects for children and youth in health and education. They asked Crossroads for goods to equip and expand their programmes, including school furniture, medical equipment, bikes and educational toys.
"It was like a beacon of hope, restoring the school through Crossroads." – NGO Staff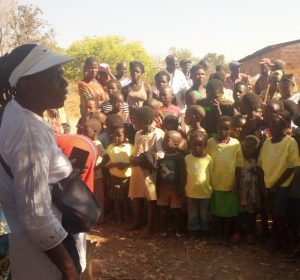 NGO staff visited this community to assess how goods from Crossroads could help them re-open the village school for orphans and vulnerable children. They helped the community establish an action plan to rejuvenate the school and helped some of the poorest families with goods from the shipment, like clothing and shoes.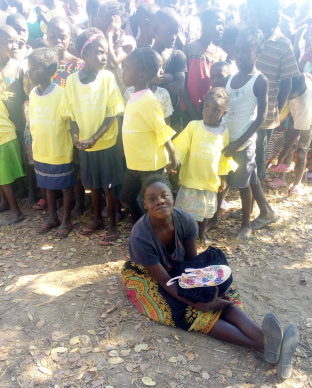 Staff were shocked when they met Chewe, aged 16, and heard her story. Chewe (pictured above, holding a new pair of shoes from Crossroads' shipment) has a disability, and at age 8 was forced to drop out of school. She was stigmatised and rejected by many in the community because of her disability.Villagers accused Chewe's grandmother of performing witchcraft to cause the disability. NGO staff, after listening to people's concerns, sat down with the family and villagers, and helped them work towards reconciliation, so that Chewe is now able to rejoin the school when it opens (filled with furniture from Crossroads!) in January. They have committed to supporting and following up on Chewe's progress, along with other vulnerable children in the student body.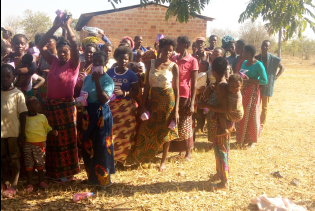 Staff are still in the process of allocating the goods from Crossroads' shipment, but they were able to share feedback from one community that has already benefited. They visited a school for orphans in a rural village, which had sadly been shut down due to lack of management and resources. Staff met with the village leaders and helped map out a plan for re-opening the school, including the promise of goods from Crossroads' shipment to make the school viable once more. Now, with a planned consignment of furniture and other goods form Crossroads, they are working to open in January, helping some of the community's most vulnerable children access education that was formerly out of reach. Staff also distributed to clothing and other essentials from the shipment to families in need (above).
While we aren't yet able to share many stories and photos of goods from this shipment in use, we were delighted to hear this initial report of how they have already begun to make a difference.
Reference No. : S4876