"They tried to bury us. They didn't know we were seeds. We are growing."
Drop Earrings, Not Bombs
The memory of bombs and gunfire still echoes loudly among the 3.5 million Syrian refugees in Turkey. All refugees feel dis-empowered when forced from home, but none more so than women who come from a culture where they are often not allowed to work.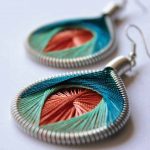 One group of refugee women has taken matters into their own hands. It is the first time some of them have ever had paid employment, and they have created a workshop to make drop earrings from wire and brightly coloured thread. We love their brand name: "Drop Earrings, Not Bombs". It's a heart-cry for peace, from some of those affected most deeply by the brutality of war. Their workshop is so much more than a place to earn income. It is itself a refuge: a place where they share their stories and encourage each other through their ongoing hardship. Their income is making a real difference to their families, covering, as they put it, "the monthly grocery expenses of a Syrian family here." This way, women don't have to ask for money from anyone when they're shopping for food. As their Social Media powerfully puts it, "they tried to bury us. They didn't know we were seeds. We are growing."
You can purchase the beautiful jewellery from Drop Earrings, Not Bombs at our Global Handicrafts shop at Crossroads Village.