Every gift can change a life. When Maclaren, maker of high end children's strollers, gave Crossroads a massive donation, they reached needy families across the world. Some were included in shipments to places like Uganda, but most were given to help children right here in Hong Kong.
One stroller went to Chi Kin, a 3 year old with special needs that prevent him walking. His family's limited budget has already been stretched with medical bills. So, for them to get him, a big boy, around busy Hong Kong, he needed the Rolls Royce of strollers, albeit on a Mini budget. The sight of the Maclaren gift, brand new and still in its packaging, left them open mouthed with amazement. It was perfect for his needs and, best of news, it cost them nothing.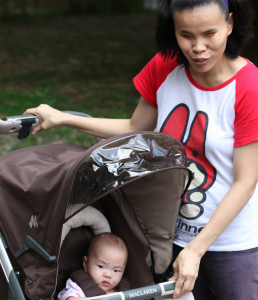 Another went to 'Mi Li', a widow, a mother of five who is completely blind. Living on a shoestring budget, Mei li could not afford the needed furniture for her home, much less a stroller for her baby. Though unable to see, she carried her baby around on her hip throughout the day, while trying to care for her other four children. When she heard a brand new stroller could be given, her hands stroked it in wonder. For her, too, this was a transformative gift.
We are grateful beyond words to partners like Maclaren, who are using their core strengths and resources to equip families in need.