This shipment has arrived! Click here to read more.
Rural community support
The Gambia is a small country in Western Africa, surrounded on three sides by the nation of Senegal. Most Gambians live in rural areas, where poverty levels are very high, leading to high maternal, child and infant mortality.
We're shipping to partners who have been working with Gambian communities since 1984 through programmes that improve water access, sanitation, food security, health and education. "Our communities are strong in culture, peace and unity," our partners write. Their projects offer the opportunities and the tools to help these communities successfully improve their own infrastructure and livelihoods.
They have asked Crossroads for help with goods to support their various programmes, including medical supplies, school furniture, bicycles, electrical goods, school books, clothing and more.
---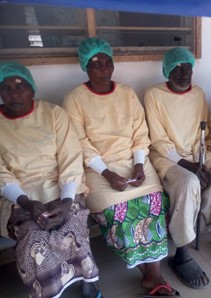 Restoring sight to fight poverty
Fatoumata had been blind in both eyes due to cataracts and she depended on her grandson to help her day to day. "Making eye health a priority has significant economic and social benefits for everyone," write our partners. They run clinics in villages (left) to diagnose and operate on cataracts, restoring sight to people like Fatoumata. Today, with her sight restored, Fatoumata can take care of herself, and her grandson is released to seek employment and earn an income.
This shipment will include health and hygiene goods to support our partners' rural health projects, helping more like Fatoumata and her family.
---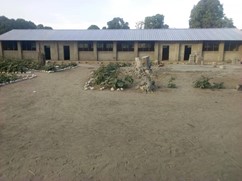 Staying in school for better futures
Andong was on the verge of dropping out of school when our partners met him. After losing both his parents, Andong was living with relatives who found it difficult to support his education. Like many local families, they depend on farming to survive, but grow just enough to meet the family's own nutrition without earning extra income to cover other needs like schooling and health. As a motivated student, Andong was doing odd jobs on other farms to earn just enough money to cover his daily school commute, but never had enough for books and stationery. Our partners began supporting Andong, so that he could focus on his studies without financial stress. He was relieved to be able to stay in school, and finally graduated from high school, starting a university degree soon after.
We are so pleased to be supplying our partners with school goods and furniture to help them give opportunities to more vulnerable students like Andong, helping break the poverty cycle through education.
---
Covid-19 has closed village markets across the Gambia, as part of social distancing measures, which has a ripple effect on food security for those in poverty.  Our partners run programmes to help provide food packages to struggling families.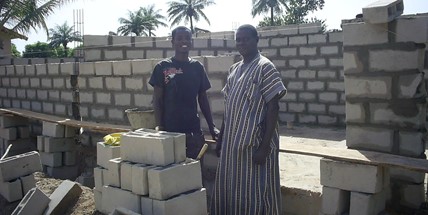 Building sanitation facilities for a local primary school, as part of health and hygiene programmes helps fight diseases that contribute to poverty.
---
(S5437)